Guide to Display Tab Preview Bar in Microsoft Edge. – When you open multiple tabs at a time there are always chances to occur mess up among webpages. So Microsoft Edge arranges Tab Preview feature that allows viewing the inside content of the open pages in its tab. You hover only need to hover over a tab staying in your Web page to see what is running in the tab.
Windows doesn't include a way to Disable Tab Preview in Edge Browser, but you can use this guide for the same.
This Windows 10 inbuilt browser offers several tab management tools as Pin and Unpin Tabs, Close Tabs To The Right, Refresh all, and a few other.
Microsoft Edge browser makes enhancements to the Tab preview. At first, the Edge last tab includes chevron (reverse v shape) icon that leads to open and close the preview. In addition, you find 2 more icons for Scroll tab list forward and backward. The icon is pretty handy when you open more than 5 tabs. So you can simply slide and see the webpages from tabs.
Display Tab Preview Bar in Microsoft Edge
Step 1 – Click on either Edge icon located on the taskbar or its tile on Start menu. If you are Missing Edge Browser Icon then follow the fixing guidelines.
Step 2 – Once the Edge browser appears on the Windows 10 computer screen locate chevron shape icon. Click this icon to drop down the tab preview bar in a wide strip having a list of pages.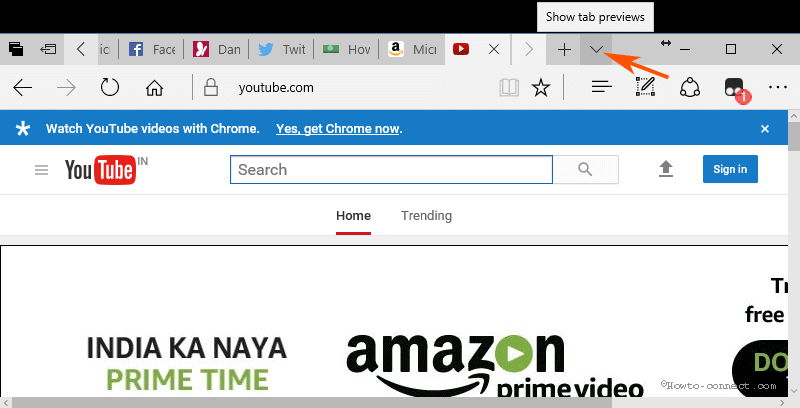 Hide the tab Preview
Step 1 – Locate the reverse chevron icon at the top of the last tab in the tab preview bar. Click this icon and the tab preview bar including all the lists will close promptly.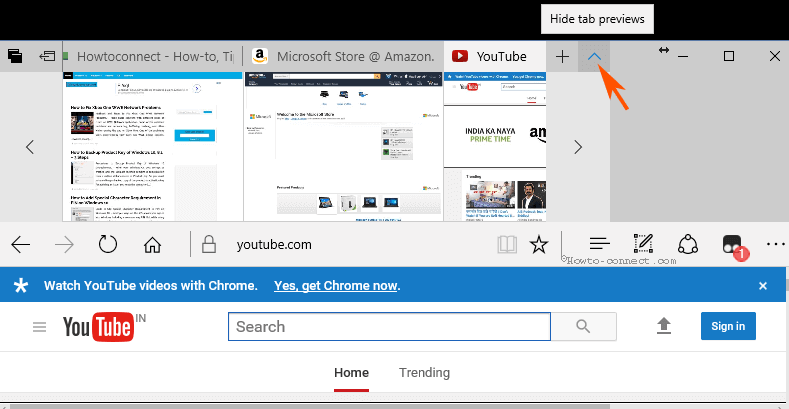 Scroll tab list
If you running numerous tabs on Edge browser then you will need to use Scroll tab list forward and Scroll tab list backward arrow icons.
Step 1 – Click Scroll tab list backward and see the hidden tabs available on the left side of Edge Tab preview bar.
Step 2 – In the same way, click Scroll tab list forward to see the tabs on the right side.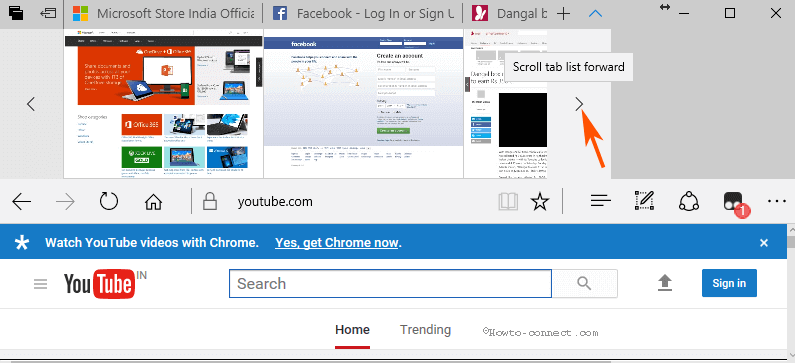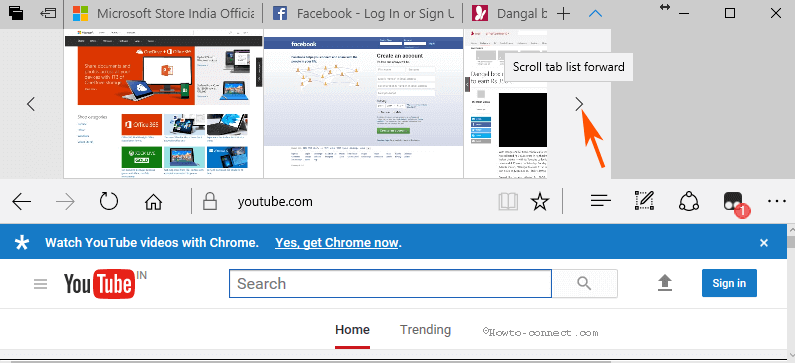 The bar allows scroll throughout the list with touch, mouse wheel, or a touchpad. So the Users who frequently run multiple numbers of tabs on Microsoft Edge browser can organize their web pages across the devices using the Tab Preview Bar.
Wrap up
So these are the ways to Display Tab Preview Bar in Microsoft Edge on Windows 10. The browser includes many tab management tools and options and this is an enhancement to all those. However, Microsoft wants to see users' reactions now on the Tab Preview Bar, so if you are positive about this you can respond via feedback.