You need often to enable USB debugging option in Android device to perform several tasks like official firmware updating, custom ROM installing or rooting. Actually USB Debugging mode facilitates you to connect Android device with the computer through USB cable and transfer every type of files like images, apps, videos easily. The option for enabling or disabling USB debugging is found on all Android devices, but it is generally disabled.
Keep in mind that the process of USB Debugging mode enable is simple method. In this context, we have mentioned easy tips  in this page about how to enable USB debugging on every Android OS version such as ICS, Gingerbread, and Jelly Bean?
How to Enable USB Debugging in Android 4.1.2 or 4.2.2 OS  (ICS, Jelly Bean) ?
Google has altered a little process in the latest Android 4.1.2 or 4.2.2 OS  (ICS, Jelly Bean) in order to USB debugging option. To do it,
At first, explore the Settings screen by tapping Home button.
Next scroll down and tap on Developer options.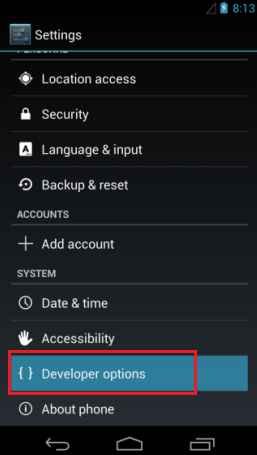 Now check the USB debugging from next screen.
Remark
If it happens as disable USB Debugging mode then you have to un-check the earlier selected box.
How to Enable USB Debugging in Android 2.3 OS ?
At first, Press on Menu key on the home screen and tap on Settings option.
Then you will get several options before you. Scroll down and tap on Applications option.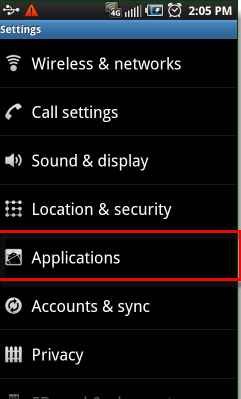 Now you will reach to Application settings screen. Then find to Development option and tap on it.
On the next screen, you will get 3 options along with USB debugging. Every option shows a check box in order to enable it. Keep in mind that while you tap on check box, it will convert into green color.
Finally tap on USB debugging check box from here.