Beautiful Explore Beekeeping Windows 10 Theme is waiting in the Store to provide your Desktop a premium and wonderful look. With this amazing personalization app, you will learn about the details of honeycombs, honeybees, and beekeepers as well. Inside this theme, there's a set of the 20 high-resolution pleasant image which is only applicable for the Desktop wallpaper only. You are able to try this one from the store and grant your screen a new tinge at free of cost.
Explore Beekeeping theme is a comparatively lightweight and user-friendly app. The set of background images occupies only 23.71 MB space on your Disk drive that is actually pretty less. This theme is suitable for users of all ages having English as the default language. Moreover, one of the most impressive parts of this theme is that you're able to get this at a minimum of ten Windows 10 systems. For this, just downloads this application with the help of your Microsoft account.
Explore Beekeeping Windows 10 Theme
Here is how to download, install and set Explore Beekeeping Windows 10 Theme –
Step-1: Do a click on Microsoft Store icon located at the Start menu.
Step-2: When the app opens, type "Explore Beekeeping" in the search box.
Step-3: Press Enter to have the Theme page with details.
Step-4: Click on Get button to initiate Downloading.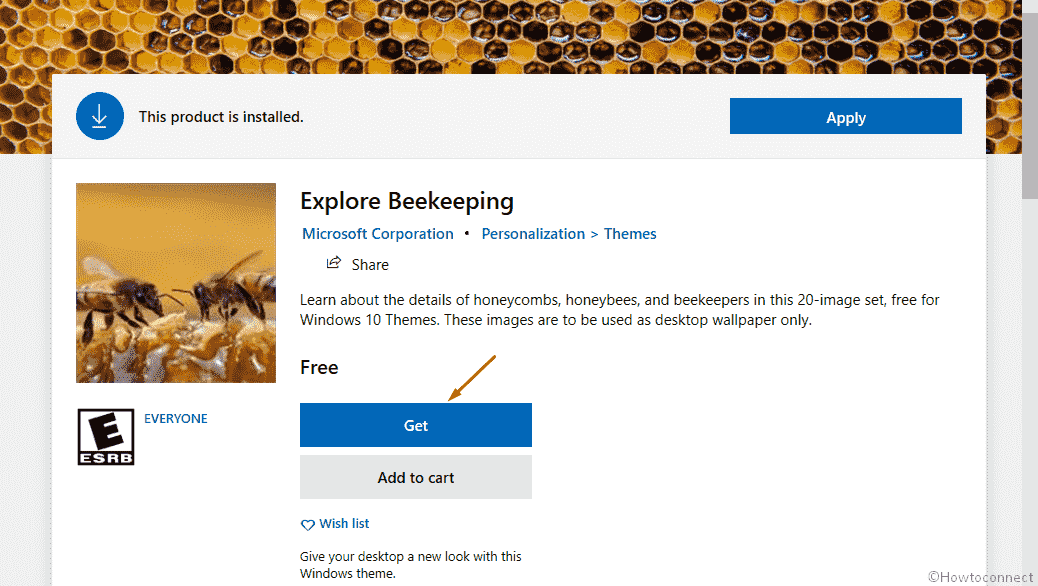 Step-5: Finally installed when it gets downloaded and choose Apply.
Step-6: System will guide you to the Theme settings page by default.
Step-7: Lastly, do a click on this app listed to adorn the desktop with images contained in theme.
Another way, you can launch Web browser in Windows and visit this link to Explore Beekeeping World Windows 10 Theme. Once the page comes in, hit 'Get' button located here to open the Theme page straight from Microsoft Store App section.
System Requirements for the Theme
Your device must comply with the following system requirements in order to download and apply this app to Desktop –
Operating System in use must be Windows 10 version 14951.0 or higher to launch and apply this app.
Minimum Architecture demand is x86, x64, ARM, ARM64.
In addition to this, your device must support English (United States) language.
That's all!!!