Windows 8 Tweetro app makes windows 8 operating easy and its look is attractive.  It is a very useful app for windows 8. I am here presenting windows Tweetro app features as well as its download link.
Features of Windows 8 Tweetro App – 
Once you install Tweetro app in your windows 8 computer, start it from metro screen.
Insert your Twitter Id and Password in the Tweetro app prompted screen in left panel and hit on Authorize app button.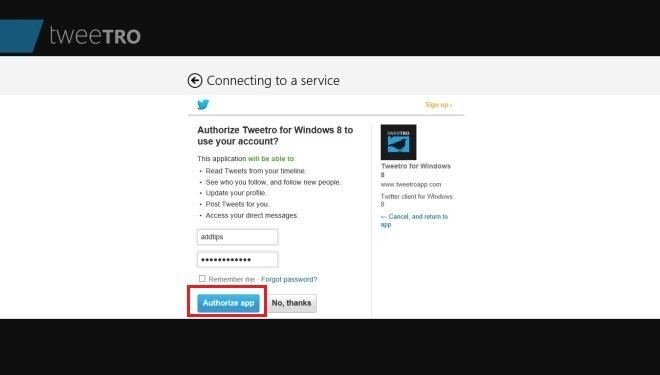 After Tweetro app signing in, you view full screen interface in order to open with metro screen. There are several options displaying in columns category – Timeline, Profile, Pictures and more. You can include new columns also in addition to delete previous anyone opted columns.
Tweetro main screen displays a quick access to type messages and Favorites.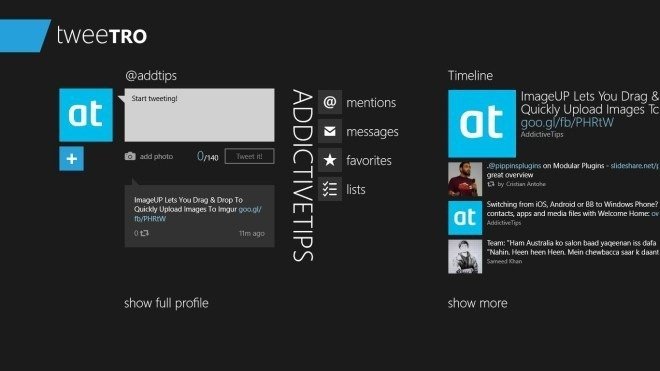 Similar to metro screen in windows 8 computer, hit on the Minuscule (-) button from underneath right panel. You get a bird's eye look up of your twitter account. It is a most clean element to watch over your included columns.
Tweetro app included menus display full-size and its text appears spiky and colorful.
Best characteristic of Tweetro app is its inbuilt browsing facility for example – you can start opted Web Pages in new pane to the right corner with Timeline menu, tweets. You will also get helpful buttons to perform several actions such as delete, favorite, quote and reply.