How to Enable File Collaboration in OneDrive Windows 10 – After getting the built-in cloud storage you are welcomed with handful of features. Few significant of these are it allows us to organize and modifying files in a browser and sharing it with colleagues. But recently, Windows 10 has got a tool to enhance your experience while working on OneDrive. The tool is at present for the insiders but, once the anniversary update strikes this will be functional on Windows 10.
This feature is File collaboration. When a user will Enable File Collaboration in OneDrive Windows 10, it will intensify MS Office with the intention to sync the existing files rapidly and consolidate them with his colleagues at the same moment.
How to Enable File Collaboration in OneDrive Windows 10
Step 1 – Look at the right corner of the taskbar or systray and you can spot OneDrive cloud shaped symbol, in case, if you cannot locate it there, click or hit the tiny arrow and you can notice OneDrive symbol in the emerged menu.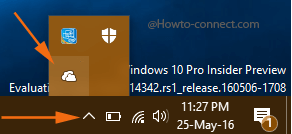 Step 2 – After locating the icon, do a right-click on it and from the popped up menu, click or hit the choice Settings.
Step 3 – Microsoft OneDrive box will soon appear on the screen, shift yourself to the tab that is entitled as Office.
Step 4 – A heading of File Collaboration will be visible on that tab which explains that you can work on Office files with other folks at the same time by syncing the files with Office.
Step 5 – There is an option that reads as Use Office to sync Office files, tick mark its square cell and then click or hit the Ok button.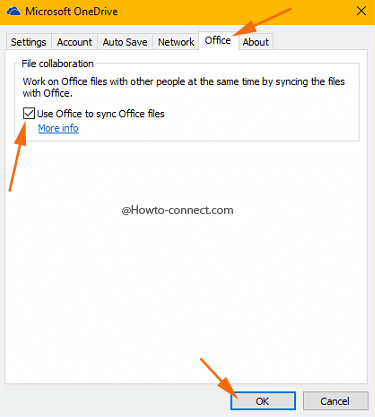 After the accomplishment of the above steps, you can speedily save or launch any of your documents from Office apps such as Word, Excel, etc. However, for the users of the desktop app of OneDrive on Windows 10, Office and OneDrive behaves in a consolidated way when you talk about syncing the documents, and simultaneously it bestows you the opportunity to handle the shared documents with variant users.