Mozilla has more plans for its globally used browser. Firefox 67 Receives New Screenshot Feature and Keyboard Shortcut. Commonly, you used to take screenshots through one of the (somewhat) lengthy processes- mostly through the Print Screen button. These shortcut keys would definitely be helpful in easing the whole screen capturing thing – at least for users. Looks like Firefox 67 gets interesting.
Previously, Mozilla let users capture screen happenings by navigating to the Action menu and selecting Take screenshot option. Firefox 67 will no longer provide you a Save option but instead displays a Download and Copy button. You can directly download the screenshot or take a copy of it and paste it on any text editor. Read on to know the new shortcut keys assigned to capture screenshots in Mozilla Firefox.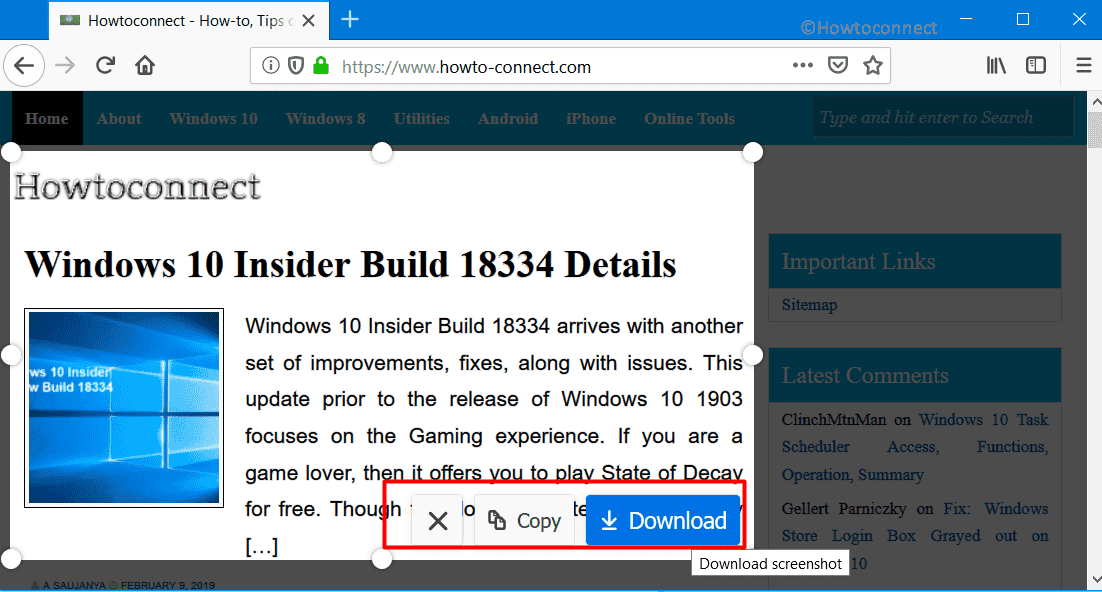 Firefox 67 Receives New Screenshot Feature and Keyboard Shortcut to ease up capturing
You can take the screenshot in Firefox 67 using the following shortcut keys:
| | |
| --- | --- |
| Operating System | Keyboard Shortcut |
| Windows | Ctrl + Shift + S |
| MAC | Cmd + Shift + S |
| Linux | Ctrl + Shift + S |
Once you press the screenshot keyboard shortcut and capture the required area, you will see a Copy and a Download button.
Click on the Download button and the image will be stored on your default Downloads directory. If you select the Copy button, you can paste the screenshot on any editor.
The screenshot keyboard shortcut assigned for Windows keyboard (Ctrl + Shift + S) was earlier assigned for opening the Devtool debugger. Of course, now that those keys are to screenshots, the shortcut for debugger stands canceled. No replacement is out yet, though. The changes and new screenshot features will be effective from Firefox 67 onwards.
Why is screenshot keyboard shortcut an important feature? Well, ask a gamer who would like to frequently capture and share his or her web game status, outfit or level! Or, for that matter, ask web designers or tech bloggers or well, any average web user. At some point of time, we all would certainly need to get browser screenshots and that's when we will be thankful for this feature. Well, once you check it out, do let know what you think of the new Firefox feature!
That's all!!!