An activation error in Windows 11 or 10 is generated when the server is unable to recognize the license key. There may be several reasons behind this, such as hardware change, invalid product key, incorrect Date and time settings, logging in with a local account. 0x803FABC3 is such an error that prevents Windows 10 or 11 from activation.
When this error occurs, you will see the message "We can't activate Windows on this device right now. You can try again activating later or go to the store to buy genuine Windows. Error code: Ox803FABC3." After running the Activation troubleshooter, the issue is not fixed and displays – "Unable to activate Windows – We can't reactivate Windows as our servers are not available right now. Wait for a few minutes to try adding your Microsoft account again.". and When Windows is not activated you can not use several settings and options furthermore a notification will be prompted recurrently. This annoying message will make you remember to activate the copy of Windows 11 or 10, which version you have installed. Fortunately, you can solve 0x803FABC3  Windows 11 or 10 with some methods given in the following part of this post.
Windows Activation error 0x803FABC3 solutions
Here is how to fix activation error 0x803FABC3 in Windows 11 or 10 –
Way-1: Make sure that your device connected to internet
Before starting to activate, you must know that the activation process is handled by Microsoft server and key management service. This will work only when you have active internet on your system. Hence, make sure that an active internet connection is working on your computer.
Way-2: Run Troubleshooter
Windows offers tools to deal with issues in various components of Windows, diagnose the causes, and solve them. Activation troubleshooter, in this case, will work perfectly to resolve 0x803FABC3 error code. To run the tool, follow the steps –
For Windows 10 –
Press – Windows+I.
Click – Update & Security.
Select – Activation from the left pane.
Go to the right and click on – Troubleshoot.
For Windows 11 –
Click on – Start.
Select – Settings.
From the right pane, scroll down and select – Activation.
Select – Troubleshoot.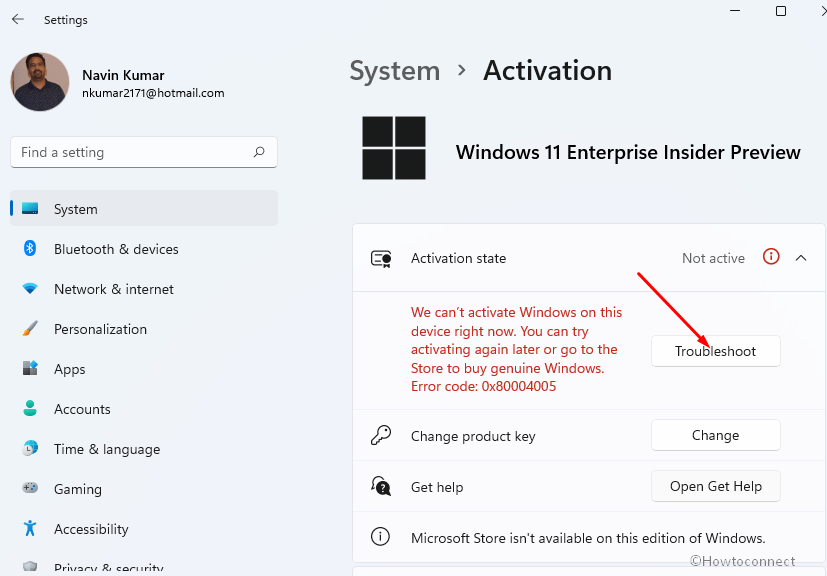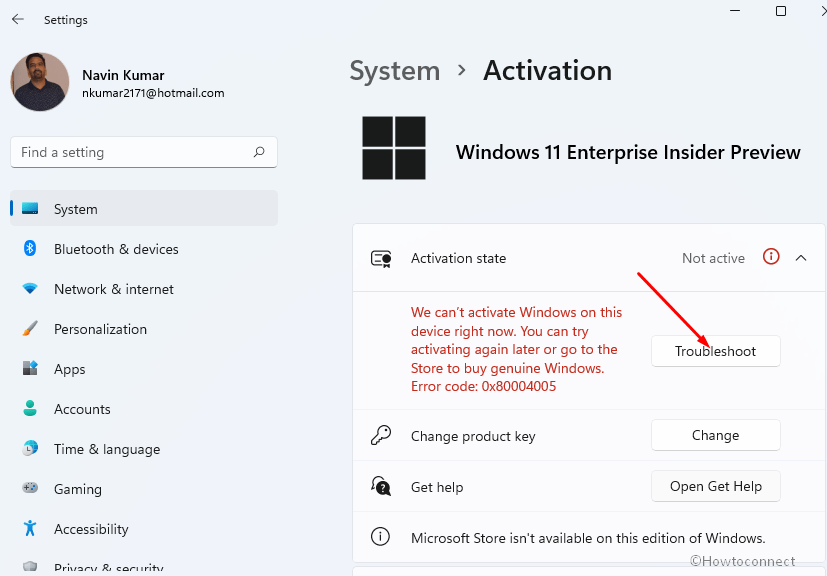 Way-3: Enter a valid product key
Sometimes, an invalid product key might throw this error message when trying to activate the copy of Windows 11 or 10. In this case, the Activation server becomes unable to recognize the license and convey it to the system. So, make sure that the key is legitimate otherwise go to Microsoft Store and purchase a fresh license.
As mentioned, you must have to use a legitimate license key having 25 characters in order to activate a copy of Windows. Generally, this is in the confirmation email you got after purchasing Windows, wrapped with the packaging that came with your device, or on the Certificate of Authenticity aka COA attached to the back or bottom of your device. Therefore, try to find the keys on the locations, and then go to the Activation settings
Way-4: Install the Windows update
Sometimes, an obsolete edition of Windows 11 or 10 can not follow the activation process perfectly and shows a certain error. So check if the Windows version using the below guidelines and install pending updates if any –
Press – Win+R.
Type – Winver.
Click on – OK.
Confirm if the version showing on the Winver is the current version of Windows 11 or 10 which one you are running.
If not, click on Taskbar search.
Type – updates.
Press – Enter.
On the Settings page, click on – Check for updates.
Windows will soon start checking the updates. It will be downloaded if available.
When you are asked to restart the system, click on – Restart now.
Way-5: Run System File Checker to fix 0x803FABC3
Another reason for the Windows Activation error 0x803FABC3 is corrupted or missing system files. Corruption can occur due to the effect of third-party programs, malware, outdated drivers, etc. So, once this activation issue appears, the System files checker tool may help you to an extent. This will scan thoroughly to check the existence of broken files and repair them easily if you follow the steps under –
Click on – Start.
Type – cmd.
Press – Ctrl+Shift+Enter.
Select – Run as administrator.
Once the command prompt appears, type – SFC /Scannow.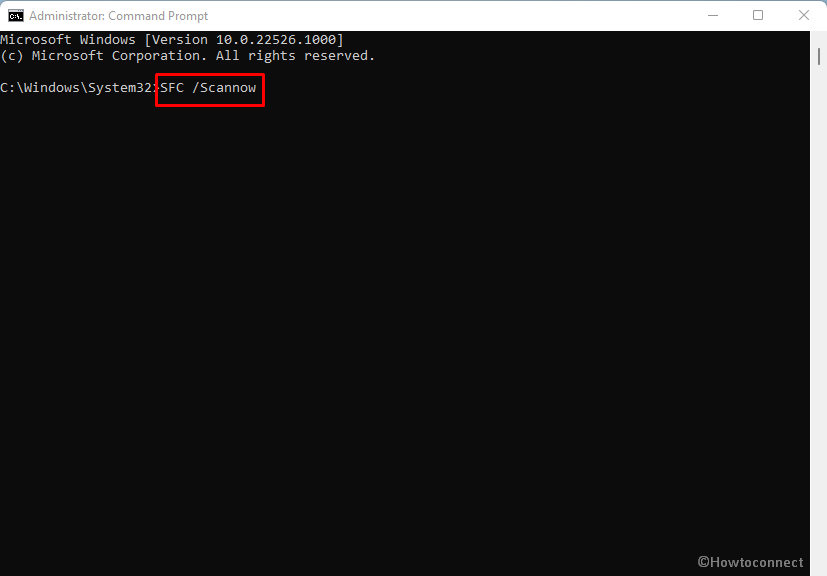 Hit Enter to start running the checker tool.
After some minutes, when the process gets completed, restart the PC.
Now go to Settings -> Update & Security -> Activation and click on Change product key.
Enter the key and wait for the activation.
Way-6: If error 0x803FABC3 occurs after a hardware change
Error code 0x803FABC3 might appear when you are trying to activate Windows 10 or 11 after a hardware change. The product key of Windows is seamlessly associated with the motherboard of a laptop or computer.
When you replace the part, Windows becomes unable to identify the product key and generates an error code that is applicable to activation failed. Therefore, if you are going to change the hardware always remember to back up the product key of Windows or save it in an accessible location. You can find the product key easily using the method – 
How to Find or Backup your Windows 11 Product Key
Find Product Key of Windows/Office/Photoshop Using ProduKey on Windows 10
Note down the info and after then start replacing the motherboard. Once changed follow the method –
Press Winkey+S.
Type activation.
Press – Enter.
Click on – Change Product Key. In the case of Windows 11, click on Change.
Type the 25 character's key and it will be activated.
Furthermore, you may use an exception path that allows transferring a Windows License after a hardware change. In this method, you'll need to be signed in to the same Microsoft account before starting the hardware replacement. To use the exception path –
Now, navigate to Start  -> Settings  -> System  -> Activation.
Now, select Troubleshoot.
In any case, if the troubleshooter can't fix the error, you'll automatically view a link to reactivate after a hardware change. Select it and follow this path.
Methods list:
Way-1: Make sure that your device connected to internet
Way-2: Run Troubleshooter
Way-3: Enter a valid product key
Way-4: Update the version
Way-5: Run System File Checker
Way-6: If error 0x803FABC3 occurs after a hardware change
That's all!!
Repair any Windows problems such as Blue/Black Screen, DLL, Exe, application, Regisrty error and quickly recover system from issues using
Reimage
.