DISM, being a part of fundamental rescuer tools, plays an important role to repair any problem on Windows 10 or 11. But sometimes, you might wonder seeing the just opposite behavior of Deployment Image Servicing and Management or "DISM" when it itself becomes a victim of error. Many users complain that when they run DISM /Online /Cleanup-Image /RestoreHealth it returns with error code 0x80029c4a.
0x80029c4a DISM error appears when executing the DISM command to restore the image after getting another issue with Windows update. Instead of fixing the trouble, the command prompt shows the code. Upon prefervid research, it is found that the issue occurs due to the existence of third-party programs like antivirus and firewall. Furthermore, Corrupted system files which are eventually generated when conflicts occur, Outdated Windows, and some other problems may cause the error.
DISM 0x80029c4a error in Windows 10
Here is how to fix Error 0x80029c4a DISM in Windows 10 –
Way-1: Uninstall third-party programs
As we have already mentioned, 3rd party utilities might be a reason for this Deployment Image Servicing and Management issue. You might know that the tools installed from the web and not available natively on Windows are called third-party programs. Once they are incompatible there is always a possibility of struggle between the built-in windows system files and the tool. They start interfering with the normal operations of Windows resulting in abnormal errors. So, to deal with this error that appears on running the DISM Restorehealth command, follow the guidelines –
Press – Winkey+R.
Type – appwiz.cpl.
Hit – Enter.
Find the 3rd party program and right-click on it.
Select – Uninstall.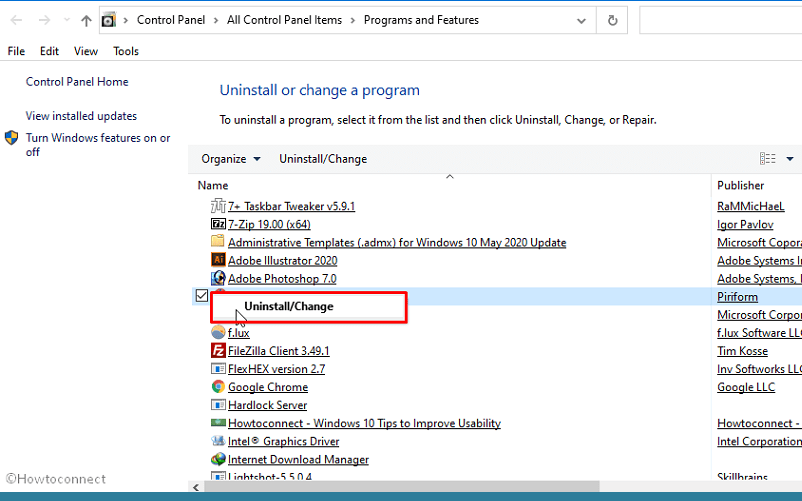 If a User account control pop-up appears, click on – Yes.
Follow the on-screen instructions until the tool I removed completely.
Restart the machine and check if the 0x80029c4a error code appears.
However, for better uninstallation that can also wipe out leftover, you can follow the method in – Use Revo Uninstaller On Windows 10 to Force Uninstall Stubborn Programs.
For the removal, you can also follow – How to Completely Uninstall Software From Windows 10 – Beginners.
Way-2: Repair system files
Malfunctioning system files might cause the DISM error to occur. When the built-in command-line tool calls the windows image .wim the system becomes unable to return the file for repair. Consequently, the issue occurs and the restorehealth process fails to proceed further with the task. Once you repair the system files using the below steps the error code 0x80029c4a will no longer appear. Follow –
Click – Start.
Type – cmd.
Right-click on – Command prompt.
Select – Run as administrator.
Once the CMD loads on the screen, type – SFC /Scannow.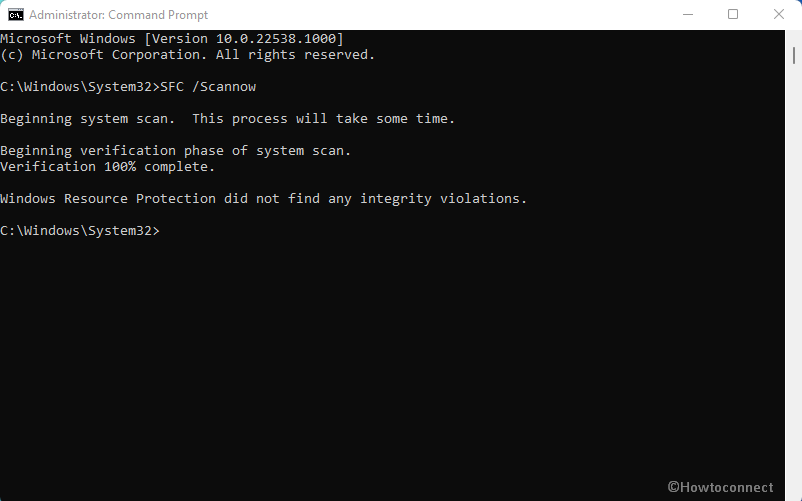 You can see – Beginning system scan. This process will take some time.
After a span of some minutes, when it shows Verification 100% complete, restart the PC.
The DISM not working error shouldn't occur further.
Read more details on these tools – SFC /Scannow, DISM.Exe, CHKDSK Windows 10.
See solutions to another issue – Steps to Fix DISM Error 87 in Windows 10.
Way-3: Install Windows update
The Developer of Windows continuously looks at all the issues users encounter and lodge feedback and complaints on different forums. Once the company acknowledges an error it deploys a team of engineers to resolve it. Just after finding a resolution, the company delivers a patch to fix the same. If several users are finding the same error (in your case DISM 0x80029c4a) there might be a patch already reached your computer. Therefore, you need to only check and install the update –
Click on – Search.
Type – updates.
Press – Enter.
When the Settings app comes, click on – Check for updates.
After being checked, the update will be downloaded and you will be shown a pop up. Select – Restart now on that.
Alternatively, follow – 4 Ways to Update Windows 10.
Way-4: Reset the PC
Reset PC is functionality in Windows 10 as well as 11 to overcome any issue that occurs and is hard to fix. This provides 2 mainly 2 options – Keep files, and Remove everything. In this situation, you will have to select Remove everything which will neutralize the impact of third party programs automatically by eradicating them. Follow the instructions –
Press – Winkey+I.
Select – Update & Security.
From the next Settings page, click on Recovery on the left pane.
Go to the right, and click on Get Started under Reset this PC.
From the next pop up, click on – Remove everything.
Now select – Remove files and clean the drive.
Click – Reset.
This will take time in hours so wait imperturbably.
After multiple restarts when the process gets over the error code will no longer occur.
How To Reset Windows 10 Removing Everything, Keeping Files
Way-5: Clean install Windows 10 or 11
Clean install is the last resort as you will experience a brand new operating system without any error including DISM 0x80029c4a. Media creation tool is available on the Windows 10 download webpage that allows taking an ISO file. You need to make it bootable, so, go with the method in this post – How to Make Pendrive Bootable for Windows 10. Then put the device into the port of your laptop or computer.
Turn off the PC and turn it on using the hardware Power button.
Press – Esc.
From the next screen, hit the function key that indicates – Boot device option.
Select the pen drive or flash drive you have inserted into the port of your laptop.
Then follow the guidelines being displayed until the installation is over.
See – How to Download and Install Windows 10 21H2 November 2021 Update.
Methods list:
Way-1: Uninstall third-party programs
Way-2: Repair system files
Way-3: Install Windows update
Way-4: Reset the PC
Way-5: Clean install Windows 10 or 11
That's all!!
Repair any Windows problems such as Blue/Black Screen, DLL, Exe, application, Regisrty error and quickly recover system from issues using
Reimage
.