While downloading their profile in Xbox 360, many users are frequently complaining about an Error Code 80151103 on Xbox Live. It mainly occurs because of the service disruption. When users encounter this type of problem on their computers, the first thing they do is Restart it but it doesn't work in this case. Right! That's why we are going to talk over the solution of 80151103 error on Xbox Live.
When you are trying to download your profile you may get any of the below-mentioned errors –
a) "Sorry, Xbox Live profiles cannot be loaded right now. Please try again later",
b) "Status code: 80151103", and
c) "Error: Can't connect to Live. The logon error code is 0x80151103".
That indicates there is some problem with service or the credentials you provided for "Microsoft account" or else your "Xbox Live profile".
How to Fix Error Code 80151103 on Xbox Live
Here's how to Fix Error Code 80151103 on Xbox Live –
Solution-1: Check for Service alerts
At first, it's better to check Xbox Live status for alerts rather than searching online unnecessarily about the error. If you get any service alerts while checking, wait for a few minutes before trying it again. Now check if the service is running this time. Once it started to run, you will see a green tick beside Xbox Live Core Services.
Step-1: Launch any web browser on your PC and navigate to the Xbox Live Status page.
Step-2: Here, determine the status of Xbox Live Services.
Step-3: Proceeding ahead, when the service displays a green checkmark beside it, it indicates that things are working normally.
Solution-2: Verify your Microsoft accounts security information
If you provide wrong security information for your Microsoft account, it may lead to the occurrence of Error Code 80151103 on Xbox Live. In that case, you need to confirm the credentials.
1. First and foremost, sign in to your "Microsoft account". If you are unable to log in or forgot the password, you have to change it in order to access the account.
2. Once you have changed it successfully, sign in with the new password and head to the Security tab.
3. Now, under Update your security info tab, click the button namely UPDATE INFO.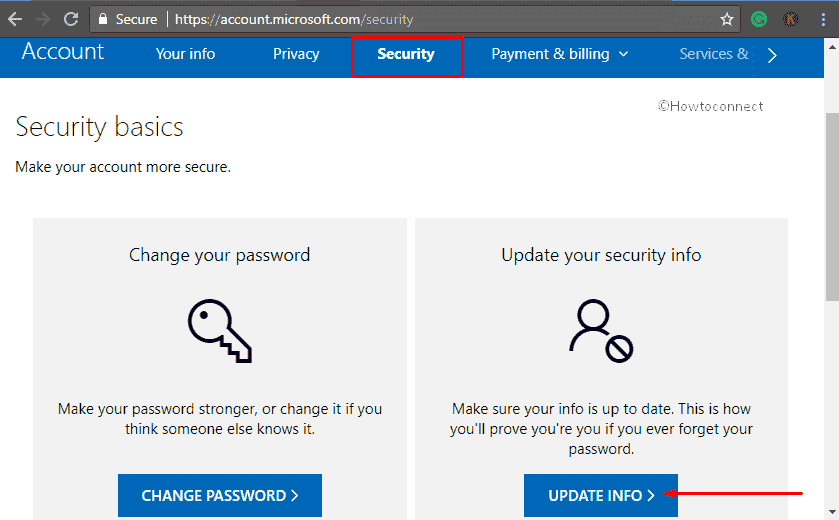 4. On the following page, update your security information whenever required. Finally, sign out from the account and sign in again.
5. When you sign in to Xbox Live, the problem should be solved.
Solution-3: Change the password of your Microsoft Account
A substantial number of users often fail to remember the password of their account. In that case, you can reset it from here as Xbox does not allow you to carry any changes to the password.
After you sign into your account, switch to the "Security" tab on the top.
Make a click on Change password as shown in the below screenshot.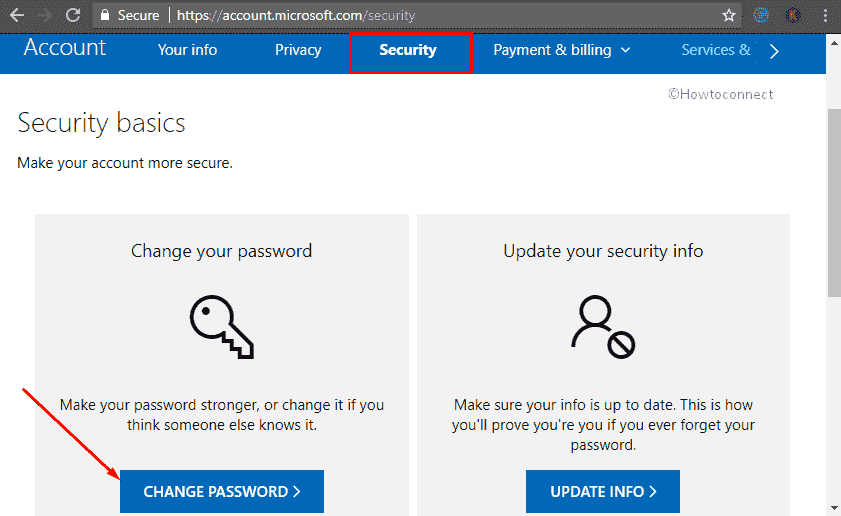 Moving forward, verify your "email address" moreover "phone number" and then you will be able to modify your credential as per your choice.
Henceforth, click the Save button in order to implement the password change.
When you finish with the change, sign in again with the new password in Xbox Live.
Password changes are ideal when you have safety reasons. However, in any case, if you fail to recall the same of the known email address then you must pick "Forget password" link while logging in. But if you don't have any information, go ahead with "Lost password" in order to reset it.
Solution-4: Re-Download Xbox Live Profile
To download your profile again you need to move it to an "external memory unit". To do so, follow the process –
• Select an external "USB flash drive" as a memory unit furthermore insert the drive into your Xbox Live console.
• Go to Settings from the Dashboard and make a click on Storage.
• Thereafter select All Devices and go to the Gamer Profiles in order to move your profile in the desired memory unit.
• Once done, remove the USB from your console.
Henceforth, you need to make an attempt to clear the cache of your system –
• Make a press on the Guide button from your controller.
• Now go to Settings option. When it appears, do a click on System Settings.
• From here, select either Storage or Memory.
• Once you choose the desired memory, it will be highlighted. Now Press Y from your controller.
Note- It doesn't matter which memory unit you select; it will wipe out the cache for all.
• In order to remove, select Clear System Cache. And when it asks for final confirmation, perform a click on Yes.
In the end, Restart your computer and Download Xbox Live profile again.
That's it. Let us know which solution helped you to fix 80151103 on Xbox Live.
Repair any Windows problems such as Blue/Black Screen, DLL, Exe, application, Regisrty error and quickly recover system from issues using
Reimage
.