Do you encounter Kernel_mode_heap_corruption Blue screen error while playing Escape From Tarkov? For several players, the online first-person action RPG/Simulator game crashes and shows this BSOD. Sometimes the app shows multiple blue screen errors such as Driver_Portion_must_be_nonpaged. What failed: mrxsmb.sys, Attempted_write_to_readonly_memory What failed: winusb.sys, and SYSTEM_SCAN_AT_RAISED_IRQL_CAUGHT_IMPROPER_DRIVER_UNLOAD. What failed: Qcamin10x64.sys.
When the Tarkov blue screen occurs game lags, freezes, and hangs and the system crashes without any warning. The root cause of this BSOD issue is incorrect allocation of paging file size on Windows. Furthermore, wrong priority of the game in Task Manager is also a reason behind this crash. The problem mostly happens after installing update patches of the game app.
Tarkov Blue Screen Error Kernel_mode_heap_corruption in Windows 11 or 10
How to fix Escape from Tarkov Blue Screen Error BSOD in Windows 11 or 10 –
Way-1: Change Paging File Size or Virtual memory
When crashes occur due to Tarkov a few more Blue Screen of Death errors may also appear, for example, Irql_Not_Less_Or_Equal, Critical Process Died, Driver_Irql_Not_Less_Or_Equal, Page_Fault_In_NonPaged_Area. However, you can easily fix all of them by changing virtual memory or paging file size –
Press Windows and R keys.
Type sysdm.cpl.
Press – Enter.
Once System Properties opens, click on the Advanced tab.
Under the Performance section, select – Settings.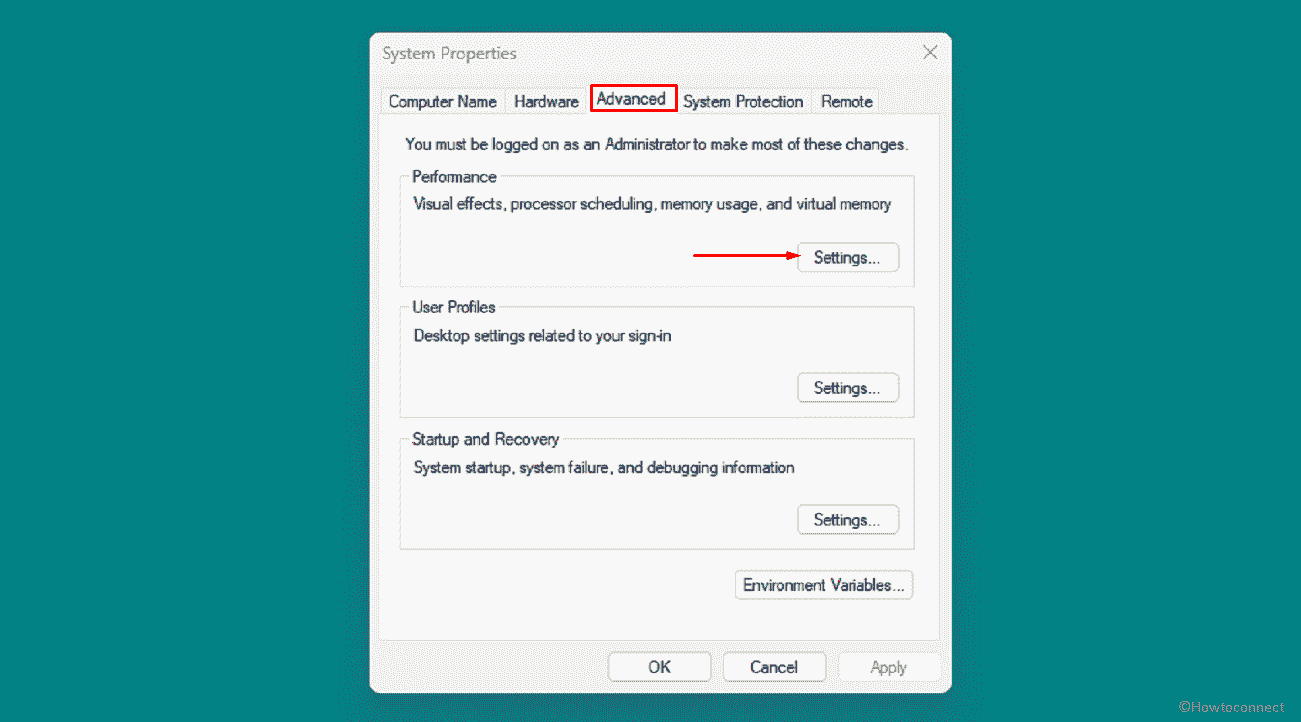 In the "Performance Options" window, click on – "Advanced".
Go to the Virtual memory section and select Change.
Uncheck the option – Automatically manage paging file size for all drives.
Check Custom.
Enter the following values
Initial size (MB): enter 2000
Maximum size (MB): 32000
Click on OK and restart the computer to save the changes.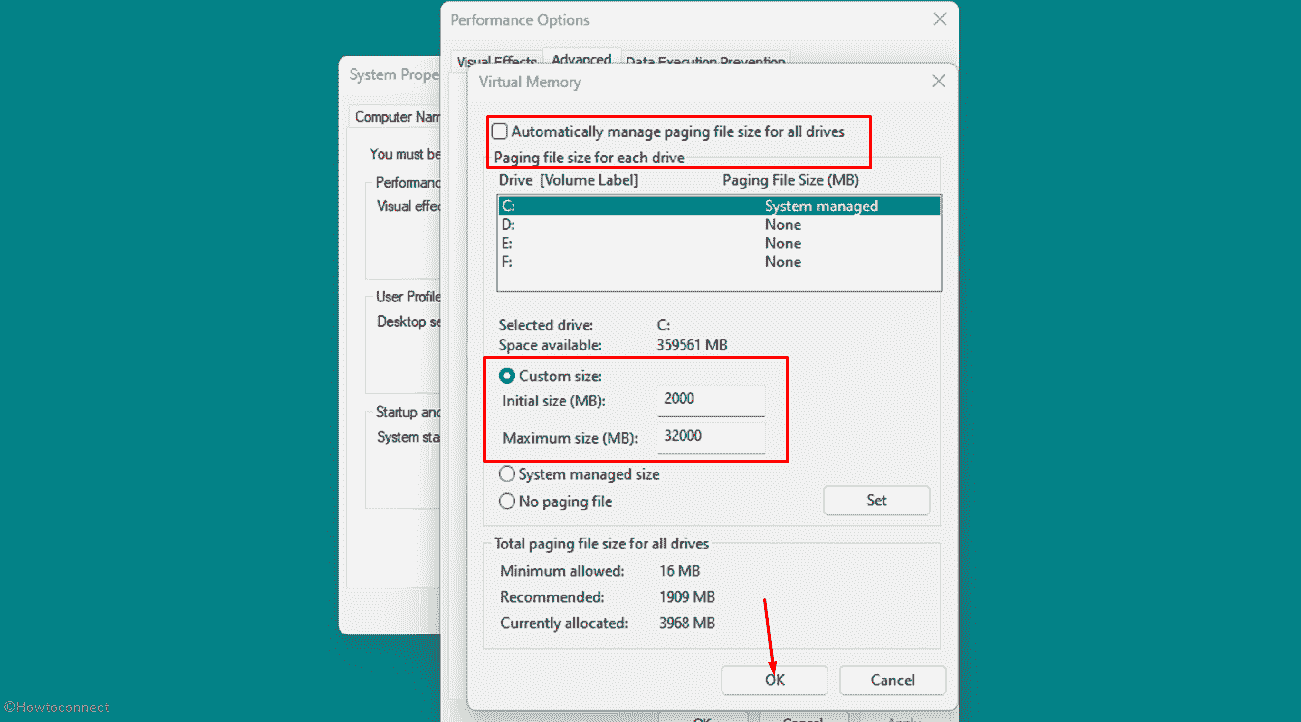 If you want to have a guide, navigate to – How to Tweak Paging File for better Windows 11 or 10 Performance.
Way-2: Change the priority in Task Manager
For unknown reasons, priority of Escape from Tarkov game has been changed to high instead of being normal and this modification has triggered the Blue screen of death on several computers. So revert back this setting to fix the error using the following steps –
Press – Ctrl + Shift + Esc.
Click on the Navigation icon from the top left corner of Task Manager.
Select – Details.
Find and right click on Escape from Tarkov and hover on Set priority.
Then, select Normal.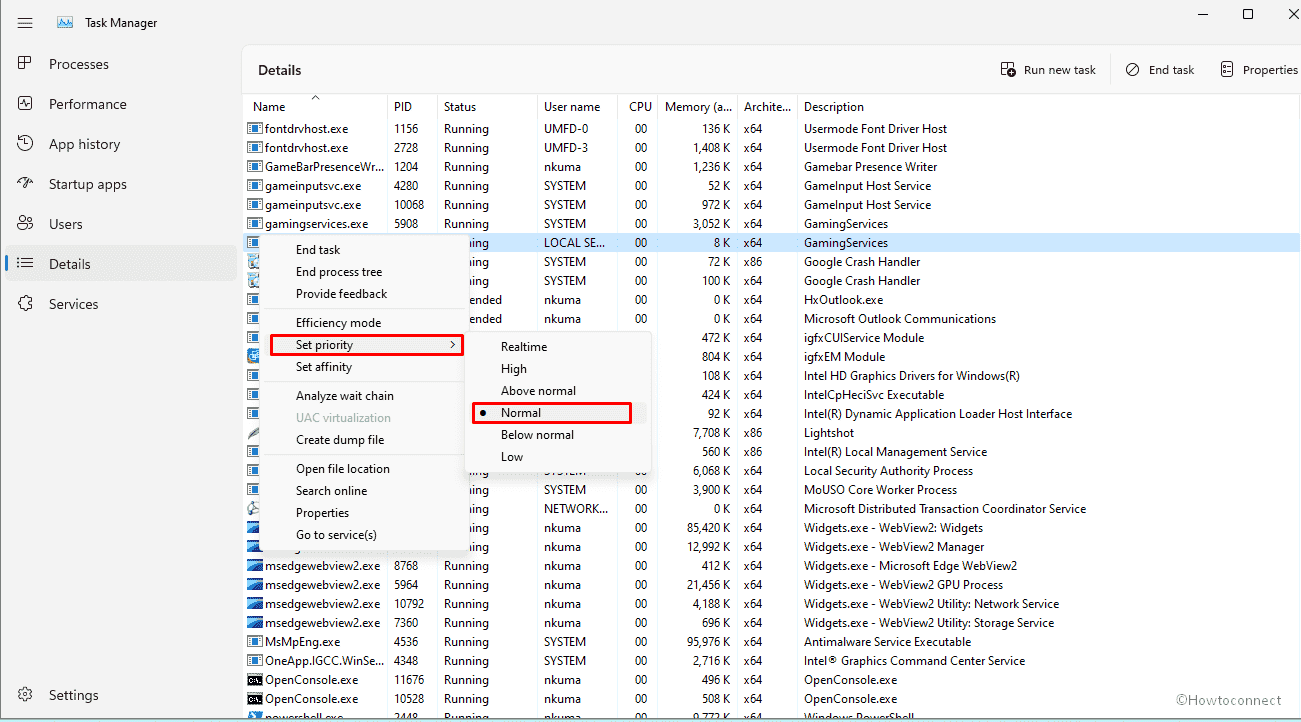 Way-3: Uninstall Gaming Services
Gaming services app is another cause that may generate Tarkov Blue Screen Error in Windows 11 or 10. You know this Store application has been glitchy from the start and interferes with the gameplay of multiple First person action games.
Removal of Gaming services can solve the error if you move forward with the steps –
Right-click on Start and select Terminal (Admin).
A User account control dialog will prompt on the screen; select "Yes".
Staying in Windows PowerShell type the following cmdlet –
get-appxpackage Microsoft.GamingServices | remove-AppxPackage -allusers
Press Enter to execute the command.
Exit the Terminal and reboot your computer.
See – Fix Windows 10 Gaming Services won't install Error 0x80073D26.
Way-4: Uninstall the recent Windows update
Sometimes, clash between a Windows update and the game patch gives rise to Tarkov BSOD problem. This happens usually when either of the updates is buggy resulting in falling into conflict with each other. Therefore, when crashes occur, check whether any update is installed in the recent past and if the answer is affirmative remove the same.
On  Windows 11:
Click on Search and type updates.
Hit Enter to launch the Settings app.
From the right, click on Update history.
On the list, check if any Windows update is installed in the last few days.
If yes then note down its KB number.
Now, scroll down to the bottom of the same page and click on Uninstall updates.
Select – Uninstall.
Confirm the pop-up and allow the patch to remove.
On Windows 10:
Right-click on Start and choose Run.
Type appwiz.cpl and press the Enter key.
Select View installed updates from the left pane.
Discover the Windows update you have received lately.
Select the patch and click on Uninstall.
Once a verification promo shows, select 'Yes'.
To dig out the causes you can use these tools –
How to Use BlueScreenView to Detect the Cause of Blue Screen and WhoCrashed: A Tool to analyze Dump and reveal culprit driver on Windows.
Way-5: Implement System Restore
If you have updated Escape from Tarkov to the latest patch and are facing Kernel_mode_heap_corruption or other Blue screen issues then there is one option. System restore can return to a former position or state when the old version of Tarkov was installed.
This way will also remove unwanted or damaging registry changes to resolve the BSOD –
Press – Win+Q.
Type rstrui.exe and hold down "Enter".
Click on Choose a different restore point when a wizard opens up.
On the next window, check – Choose a different restore point.
Check the box located before "Show more restore points".
Find out the date and time when the error did not start. Click on this to highlight it.
Select – Next.
On the coming window, review the Time, Description, and Drive you have selected to make sure they are correct.
Click on – Finish.
A popup will appear stating – "Once started System Restore can not be interrupted. Do you want to continue?" Click on Yes.
Provide a good extent of time period to complete the restoration process because it can consume hours.
We hope these ways will certainly rescue your system from the crash and Tarkov blue screen error.
Methods:
Way-1: Change Paging File Size or Virtual memory
Way-2: Change the priority in Task Manager
Way-3: Uninstall Gaming Services
Way-4: Uninstall the recent Windows update
Way-5: Implement System Restore
That's all!!
Utility tools to solve this BSOD:
Repair any Windows problems such as Blue/Black Screen, DLL, Exe, application, Regisrty error and quickly recover system from issues using
Reimage
.