You might have confronted Login Problem in Windows 10 October 2018 Update 1809 after installation of this most recent edition. Multiple users got What needs your attention warning or deletion of user files when installing this version. Microsoft have even paused providing Windows 10 1809 update for this reason. They have strictly forbidden the users to not install the update manually or through Windows update until they come up with the improved version. However, if you have installed the update and having sign-in issue, here are the most probable solutions.
Previously we explained the easy way to Get Back Deleted User Files After Windows 10 October 2018 Update but solving login issue is apparently difficult. There might be various factors responsible for this problem such as disjoint of peripheral devices, incorrect credentials of user account, poor internet connectivity etc. As there is no specific culprit, you might need to try several workarounds to eradicate the issue.
Login Problem in Windows 10 October 2018 Update 1809 Solutions
Here is How to Fix Login Problem in Windows 10 October 2018 Update 1809 –
Check your Keyboard
When you entered credentials, often the keys might not got pressed and led to Login Problem in Windows 10 1809. Therefore, you need to make sure that the keypress is working fine. Moreover, different keyboard has dissimilar layout, so, you may type wrong characters unintentionally that causes this issue.To avoid such situations, you can always go for the On Screen Keyboard at the time of Sign-in. Here's how –
Step-1: On the Login Screen, do a click on Ease of Access Icon located in the right bottom corner.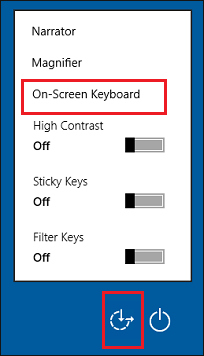 Step-2: When the list of options come into the view, select On-Screen Keyboard to bring up it in the display.

Once the keyboard appears, use the mouse to tap on the keys to enter the password. This solution might seem to be very simple, yet has very good impact as several users have tried and found successful.
Check the Internet connection

If you have recently changed the credentials of your Microsoft account, there might be possibility that your PC is being not registered as per the modification. So before you follow the next methods ensure the Internet connection of your system is perfect.
Run PC in the Safe Mode
Safe mode allows you to enter system without loading unnecessary drivers and applications and identify Login Problem in Windows 10 October 2018 Update cause. Once you trace out the real culprit you can solve this Windows 10 1809 issue easily. 
In the Login screen, click on the power icon and then Select Restart. While doing so, make sure to hold the Shift key.
On the following page, choose Troubleshoot.
Next, click on Advanced options.
Moving forward, click on Startup Settings.
On the Startup Settings screen, click on Restart.
You will view a new page with multiple options. Press either f5 or 5 in order to choose Enable Safe Mode with Networking.
Now, wait for your PC to boot.
Once you reached safe mode,apply the below methods one after another –
Use the Local Account
If you are using Microsoft account on your computer this might be one of the reason to cause login Problem in Windows 10 October 2018 Update. Hence take a chance to sign in to your PC with local account. Here's How to Switch to Local Account from Microsoft Account.
Install Windows Updates
As the login Problem in Windows 10 October 2018 Update occurs with the new version, Microsoft will surely provide a fix.
Press WIN and I hotkey together in order to open Settings app.
Once it comes into the view, click on Update & Security.
On the subsequent window, click on Check for updates button in the right pane.
If any update is available, immediately download and install it. Thereafter, Reboot your system.
Hopefully, Login Problem in Windows 10 1809 will no longer occur.
Perform System Restore
Login Problem in Windows 10 October 2018 Update may arises if any system files gets corrupted. Perform the underneath steps to revert back Windows 10 to the previous time and date when this was working by and correctly –
Hold the Shift key down and Restart your Windows device.
On the next screen, Select Troubleshoot from the available options.
Click Advanced options to move ahead.
Now again click on System Restore from the list.
Choose your restore point and go through the on-screen instruction to complete this process.
Scan for viruses
The presence of malware may also cause Login Problem in Windows 10 1809. So it is highly recommended to perform a full scan while your PC is in Safe mode.
Right-click on the Start button and select Settings from the visible list.
On the subsequent page, click on Update & Security.
Select Windows Security from the left pane. Navigate to the right side and click on Virus & threat protection.
The system will bring up Windows Security application over the display. From there, click on scan options located under Current threats.
Now, select the radio button for Full scan and finally click on Scan now.
Restart your PC and check if Login Problem in Windows 10 1809 is resolved.
Run the SFC scan
The system file checker works as utility command that resolves almost all issue of your PC. SFC scans the whole system files scan for a malfunction and repair them.
Click on the Taskbar search icon and write cmd.exe. When the result appears, click on Run as Administrator in the right flap.
Once the User Account Control dialog box locks the screen, click on "Yes" to give permission.
Now on the black window type sfc /scannow and press Enter.
Wait patiently as the file checking takes up to 10 minutes to complete.
After finishing, Reboot your machine and check whether the Login Problem in Windows 10 1809 is disappeared.
Reset Windows
First of all, open windows Settings app.
Once the application appears on the desktop screen, select Update & Security option.
Now select Recovery option from left column.
Shift to the right pane and do a click on Get Started button located below Reset this PC.
Now you will view two choices – 1. "Keep my files" and 2. "Remove everything".
Choose the suitable and follow the on-screen instructions cautiously to reset your computer.
Read – How to Reformat Windows 10
We hope that this article helped you to resolve Login Problem in Windows 10 1809. If not, the final thing you can perform is Clean Install the latest version.
That's all!
Repair any Windows problems such as Blue/Black Screen, DLL, Exe, application, Regisrty error and quickly recover system from issues using
Reimage
.