Several users find a problem when trying to download and install Windows 11 22H2. Error code is 0x800f0806 which mostly appears when installing KB5017321 or KB5017383. Note that when you install the Windows 11 2022 update using MCT (Media creation tool) or ISO the build is 22621.382. This build doesn't fully activate all the features of 22H2. So you need to install KB5017321 build 22621.521 to experience a complete Windows 11 2022 update. But this cumulative update fails to be installed and shows error code 0x800f0806.
So error 0x800f0806 can occur when you complete in-place upgrade of Windows 11 22H2 and try to install KB5017321 cumulative update. The code generally appears on the Windows update history page of the Settings app. Have a look at solutions to one more issue – How to Fix Error 0x801901f4 in Windows 11 or 10.
Windows update error 0x800f0806
Here is how to fix Windows update error 0x800f0806 –
Way-1: Manually install Windows 11 22H2
When downloading the 22621.521 build through automatic Windows Update, it fails for most of the users. This indicates that the update is not compatible with the installed version. Download fails and throws error 0x800F0806. However, this issue only occurs with the inplace upgrade. In case the installation is correct, the update (KB5017321) would be integrated normally and allow you to start quickly with Windows 11 22H2 22621.521. Don't worry, here is a solution to error 0x800F0806 Windows 11 22H2 and this is the manual installation of the update.
Download KB5017321 from the following direct link suitable for your device compatibility-
Run the Setup file (.msu) to install the update on Windows 11.
If you have any problem with the in-place upgrade then download the Windows 11 22621.521 ISO from below –
Install Windows 11 22H2 and cheers.
Way-2: Delete content from SoftwareDistribution/Download
In case, error 0x800f0806 occurs when trying to install any other Windows 11 update then this method will fix the problem. Furthermore, during installing Windows 11 22H2 if the reason for the issue is corruption in Windows update components then it can also be solved. Windows update files are stored in SoftwareDistribution folder which oftentimes gets missed out or becomes corrupt. But you can repair this simply using the below steps –
Click on Start.
Type – Services.
On the Services window, find Windows update, Background intelligent transfer Service, and Cryptographic services.
Right-click on each of these, and select Stop.
Now, back to the desktop and press Winkey+l.
Select This PC from the Quick access sidebar.
Double click on (C:) drive.
Open Windows.
Find SoftwareDistribution/Download folder and double-click on it.
Once in the folder, select all the items there (Ctrl+A).
Press Del or Delete on the keyboard.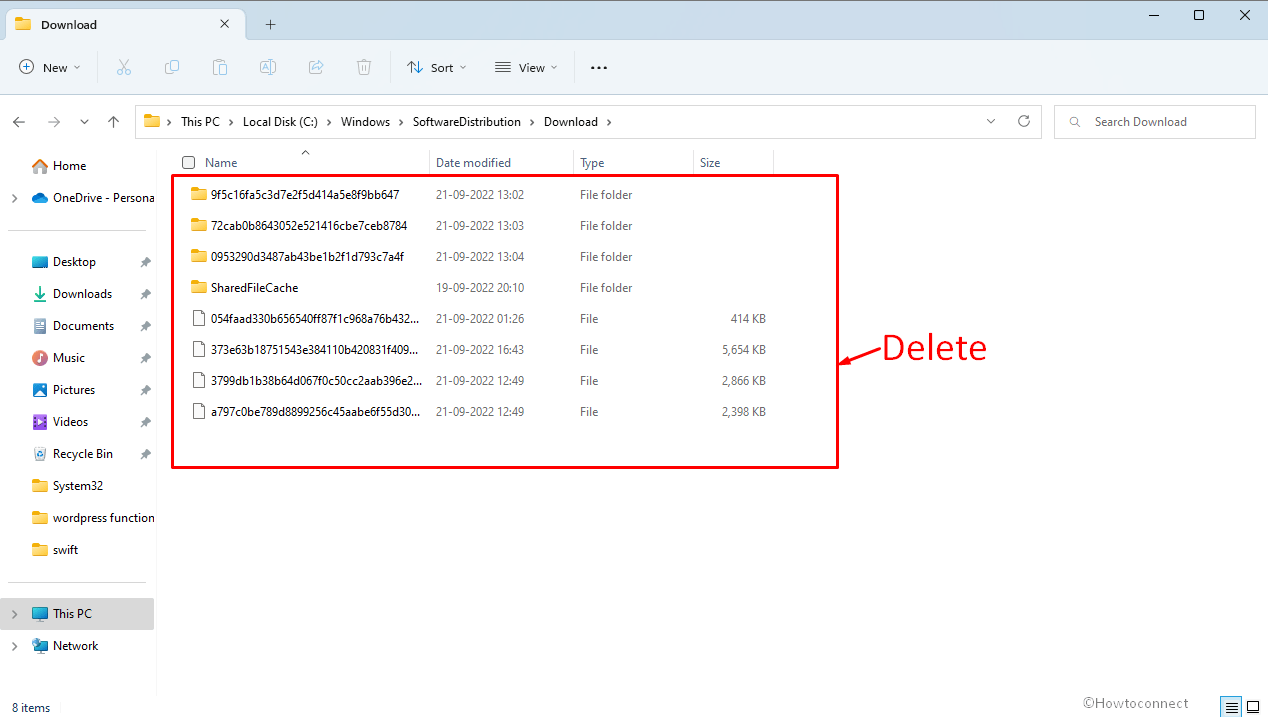 Restart your computer and again open Service.
Right-click on the 3 services mentioned above and select "Start" for each one.
Now go to Settings/Windows update and click on Check for updates.
See – Remove Items From C:\Windows\SoftwareDistribution\Download.
Way-3: Use System File Checker and DISM tools
Sometimes, Windows update error 0x800f0806 might be generated because of malfunctioning .wim in addition to corrupted or missing system files. You can use System Files Checker and DISM tool as well to rescue from this issue easily.
Press Winkey.
Type – cmd.
Now press Ctrl+Shift+Enter.
Select Yes on the UAC prompt.
When the command prompt comes, type SFC /Scannow.
Hit – Enter.
Allow the command to complete scanning and repairing.
When 100% reached, restart the PC.
Navigate to Settings > Windows update.
Click on – Check for updates.
If the error is fixed then it is okay. Otherwise, open Command prompt as administrator again.
This time type –
Dism /Online /Cleanup-Image /RestoreHealth
Hit the Enter key and wait for a while.
When the repair is finished, reboot the PC.
Now check for updates.
Way-4: Run Windows update troubleshooter
Windows update Troubleshooter is a built-in Fixit tool that can work as a rescuer of the problem. If the error code 0x800f0806 still persists, troubleshooting might help you to get rid of. All you need is to follow the steps –
Click on Search.
Type Troubleshooter.
Press Enter to launch the Settings app.
Select – Other troubleshooters.
Once on the next page, click on Run against Windows update.
The diagnostic will start detecting problems, check for pending restart, and correct the services.
In case, the tool gives suggestions, follow them carefully else check for the Windows update once more.
Way-5: Reset Windows update components
As we have mentioned, missing or corrupt Windows update components might be the root cause of 0x800f0806 error. Reset of the components may work wonders to solve this error code on Windows 11 21H2.  So move forward with the instructions below –
Download the file having scripts to Reset Windows update components Wureset_Windows_11.
Right-click on the zip file and select Extract all.
Open Wureset_Windows_11 folder and right-click on the .bat file.
Select – Run as administrator.
Press any key to continue with the script.
Wait until the reset is completed and restart the PC.
Note: it would be better to fully reset the components that include dll and registry entries, and rename the directories that can affect the Windows update installation. For this go to the below post and go ahead with every step carefully – How to Reset Windows Update to Default in Windows 10.
Way-6: Download the update from Microsoft Update Catalog and install
The best way to fix this Windows update error when got stuck is using Microsoft Update Catalog. This website hosts Standalone version of all the files, including the cumulative update whose installation is failing repeatedly. Manually download the file (x64, ARM64) compatible with your device from the catalog and install the same by following the onscreen instructions.
Navigate to the Microsoft update catalog.
Download the file supporting the computer.
Click on the lone link showing on the prompted page.
From the Downloads folder, double click on  windows11.0-kb5017321.msu.
Select Yes on the verification dialog.
Now Windows 11 22H2 will be successfully installed.
Methods:
Way-1: Manually install Windows 11 22H2
Way-2: Delete content from SoftwareDistribution/Download
Way-3: Use System File Checker and DISM tools
Way-4: Run Windows update troubleshooter
Way-5: Reset Windows update components
Way-6: Download the update from Microsoft Update Catalog and install
That's all!!
Repair any Windows problems such as Blue/Black Screen, DLL, Exe, application, Regisrty error and quickly recover system from issues using
Reimage
.