The error code we are going to discuss in this post is one of the most common and troublesome Windows update problems. This nagging issue causes the upgrade to fail in the middle of the process and can occur in any version of Windows. Update Error Code 80072EFE is the glitch for which you will find working solutions ahead.
Poor internet connection is the root cause of error 80072EFE and HEX code ERROR_INTERNET_CONNECTION_ABORTED also confirms this fact. Furthermore, this Windows update problem may occur in Windows 11, 10, 8, 7, or Vista specifically on computers loaded with malware of rootkit family. In some cases, corrupt Windows update components, and other reasons like third-party antivirus programs or Firewall might be evident.
Update error 80072efe in Windows
Here is how to fix Update Error Code 80072efe in Windows –
Way-1: Check and rectify network issues
As mentioned, facing error 80072EFE, when trying to install Windows update indicates that most probably faults with internet connection are culprit. First of all, in this situation, wait for some time then try receiving the update again and if you're not successful then restart the router.
Windows phones also throw this error code when network is not working properly; VPN or proxy server can be used as an alternative else hard reset is the final solution. If the issue is coming from server side it will be automatically fixed after some time depending on the support team. But when you are confirmed that the 80072EFE error code is client side issue then follow the steps –
Power off your router and wait for at least 10 seconds.
Switch on the device and connect the laptop/desktop to internet.
Check if the update error is fixed.
See – How to Fix WiFi not working in Windows 11 (Solved with 18 easy ways).
Way-2: Delete rootkit files using tdsskiller.exe
Because the presence of rootkit is the rudimentary element behind the error code 80072EFE on Windows this should be removed on priority. This malware pertains to the win.32 TDDS family and badly affects update download and install processes by restricting functionalities of Windows.
Thankfully, to scan and clean the malicious rootkit files Kaspersky labs provides an excellent utility tdsskiller.exe. Using this is quite easy when you move forward with the steps –
Search tdsskiller.exe in the browser.
Access the official website of Kaspersky and download the tool.
Double-click on tdsskiller.exe then select Yes on User account control.
Click on Accept on End User License Agreement window. Install the app using setup.
Click on Start Scan.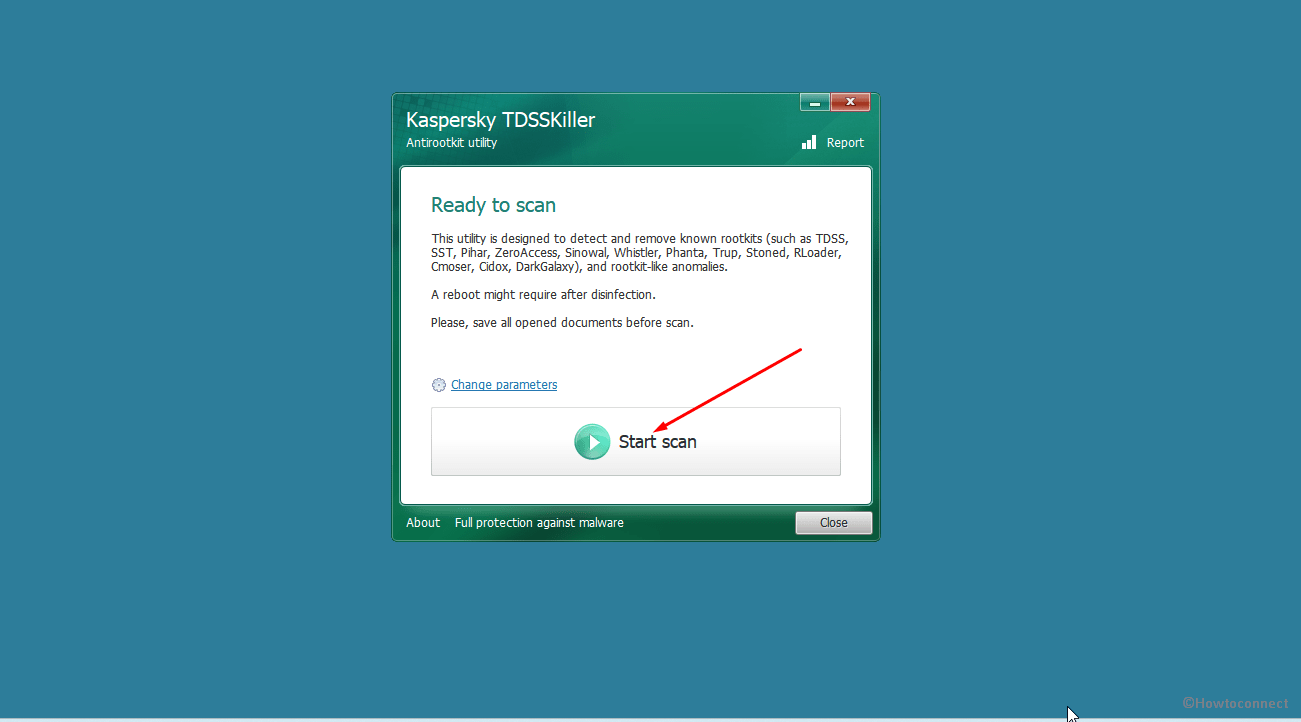 If any threats are detected, the app will automatically proceed to kill them.
After tdsskiller.exe completed its work, reboot your system.
Go to Settings > Window update > Check for updates.
Way-3: Disable Firewalls and antiviruses
Several times, Firewall and antivirus misinterpret Windows update files as malware and either block them from downloading or stop installing. However, In this error particularly the third-party anti-virus may create conflicts with Windows Defender resulting in the error.
You need to confirm that any program of this kind is not present when this update problem is running. Suppose there is a firewall or antimalware this should be uninstalled to get rid of  80072EFE. Check if the programs are –
1] AVG firewall
2] Norton Internet Security
3] McAfee firewall
4] Zone Alarm Firewall
5] Panda Firewall
If exists, then either disable or uninstall them –
Disable the program –
Go to System tray (right side of the taskbar).
Right click on the Antimalware icon and select Disable.
Uninstall the tools –
Press Winkey and R.
Type appwiz.cpl.
Hit the Enter key and find the antivirus suite or firewall.
Select the program and click on Uninstall.
If any wizard prompts, go with the recommendations.
Repeat the procedure when more programs are showing.
Reboot the device in the end and check if the error is fixed.
Way-4: Delete the CatRoot2 folder
Catroot2 folder plays a role to store signatures of Windows update packages. When installing a Windows update the process requires clean chit from Catroot2 but because of corruption in the folder it fails. Once the content is deleted, new package downloaded has fresh signatures which help in successful installation.
In order to delete the Catroot2 you will have to stop Cryptographic service because this service brings files into use.
Click on Search.
Type services.msc.
Press the Enter key and allow the Services window to load.
Right click on Cryptographic service and select Stop.
Double-click on this service and choose Properties.
From Startup type drop-down select Disabled.
Now open Run dialog (Windoows+R) and paste C:\ Windows \ System32.
Find Catroot2 in the directory and delete it. Note that you might need administrator permission for the deletion. Still, if you are unable to remove the folder you should Boot into safe mode and then try to delete the folder.
Again go to the Cryptographic service properties window and Enable the service.
Click on Start from Running status.
Reboot the system and give try to install the existing update.
Way-5: Set the Local Group Policy to default
If the error code 80072EFE still persists then there may be something wrong with Group Policy (Gpedit). Unnecessary modifications in policy settings often generate Windows update issues including this flaw.
Group policy has 3 types of setting modes Enabled, Disabled, and Not Configured. The default settings for all the policies are "Not Configured" and when this is altered to enabled or disabled its behavior changes and interferes with normal operations.
 However, you can reset the Group Policy Settings all at a time using a command line:
Press – Windows+Q.
Type – cmd.exe.
Select – Run as administrator.
Click Yes to launch the Command prompt with administrative mode.
Type the syntax:
RD /S /Q "%WinDir%\System32\GroupPolicyUsers" && RD /S /Q "%WinDir%\System32\GroupPolicy"
Press – Enter.
Then run the command – gpupdate /force.
Restart the computer and hopefully, the error code should be fixed now.
Way-6: Take help of Troubleshooter
Click on Search from the taskbar.
Type – troubleshooter.
Hit the Enter key and open a Settings page.
Now, click on Other troubleshooters.
Next, go to the right pane and find Windows update.
Select Run to begin troubleshooting the issue.
A tool will prompt checking for pending updates; let it complete the process. This will thoroughly examine the BITS, Cryptographic and Windows update services, registry, and Windows update components.
Once it gets over, you may be asked to follow some recommendations, follow them carefully.
Lastly, restart the PC and check if the problem is solved now
Way-7: Reset the Windows update components
If 80072efe Windows update error still persists then you need to shift your focus to the components part. There is an arrangement in Windows to store the update's download files and support the distribution process.
Due to getting corrupted, the components spoil the update exercise so resetting this is a must solution for this case. Follow the steps –
Using script –
Click on this reset update link.
Extract the file.
Browse and reach Reset.bat and right click on it.
Select – Run as administrator.
If Users account control prompts, choose Yes.
Press any key on the keyboard to continue.
Stay until the resetting is done and after that reboot the system.
Manually Reset
Press Windows and S.
Type msc.
Hit Enter and launch the Services tool.
Find 3 services – Windows update, Background Intelligent transfer service, and Cryptographic service. Right-click on each of them and select Stop.
Now click on search and type exe.
Select – Run as administrator.
Type the following pieces of command simultaneously
net stop wuauserv
net stop bits
net stop CryptSvc
Now open File Explorer (Winkey+E).
Copy c:/windows/software distribution.
Select the entire contents there and delete.
Again go to the command prompt and run the following commands this time –
net start wuauserv
net start bits
net start CryptSvc
Restart the computer, Check for updates, and see as the error would have been already fixed.
Follow – How to Reset Windows Update to Default in Windows 10
Way-8: Run SFC and DISM
When going through the pain of Windows update error code 80072efe Corrupted or missing system files are common causes you need to work on. Apart from, poor Furthermore, the issue might occur because of fault with the .wim file. But it is easy to deal with by going along withe the steps –
Access the Command Prompt with administrative privileges.
Type SFC /Scannow.
Hit the Enter key and hold on until the execution of the command is performed.
Reboot the system and ensure that the error is resolved otherwise run the underneath commands –
DISM /Online /Cleanup-Image /CheckHealth
DISM /Online /Cleanup-Image /ScanHealth
DISM /Online /Cleanup-Image /RestoreHealth
In the end, reboot your device.
Methods:
Way-1: Check and rectify network issues
Way-2: Delete rootkit files using tdsskiller.exe
Way-3: Disable Firewalls and antiviruses
Way-4: Delete the CatRoot2 folder
Way-5: Set the Local Group Policy to default
Way-6: Take help of Troubleshooter
Way-7: Reset the Windows update components
Way-8: Run SFC and DISM
That's all!!
Repair any Windows problems such as Blue/Black Screen, DLL, Exe, application, Regisrty error and quickly recover system from issues using
Reimage
.