Flipboard is a Windows 8 app to create your own magazine. The App presents a unique place to collect your interested stories and share it with family and friends. Flipboard provides the stories with flipping pages you care about from all over the world whether it is from news, technology, sports, Business, Food, Travel, Music, or else. You can even scan the news columns, videos, audios, and images friends are sharing.
You can customize your Flipboard and share favorites via social networking sites and enjoy the response from friends; all through your single personalized magazine. Flipboard provides a lot of content where you are free to add or remove from your magazine anytime. In attractive Flipping pages having high-resolution photos you could find ocean of knowledge and info as audio, video, and articles.
Recommended:
Flipboard Windows 8 App Design
Interface of this application is very attractive and colorful. Content on tiles holding zooming in images presents amazing experience for eyes. Mere flipping over the magazine opens next page. You find categories menu in the right side Flipboard and Each category shows a collection of thumbnails on interface.
How to use Flipboard Windows 8 App
Install the application from the link provided below or own it from the news category of the Windows Store.
Click on the "Flip".
Select the contents that you wish to subscribe in your Flipboard magazine.
Click "Next".
An account creation page comes. Enter requested details to create your Flipboard Account.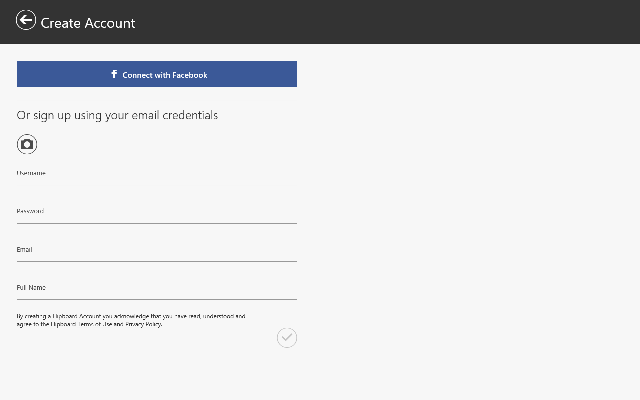 Click on the tick mark to proceed further.
You can see a homepage now exhibiting your subscription tab and discover tab.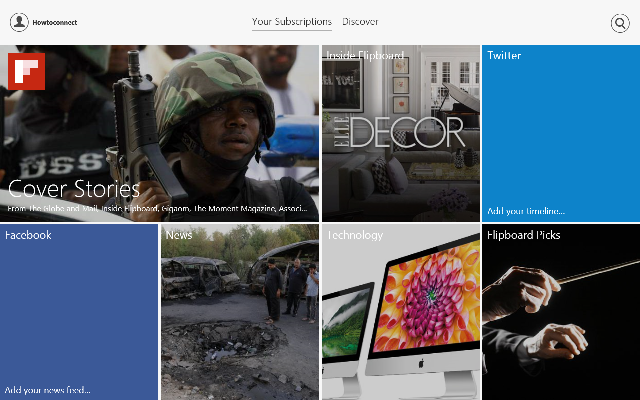 Tap on any tile to view the matter in detail.
Click "+" to save the desired matter into your own magazine. Give your magazine a title and a category and save.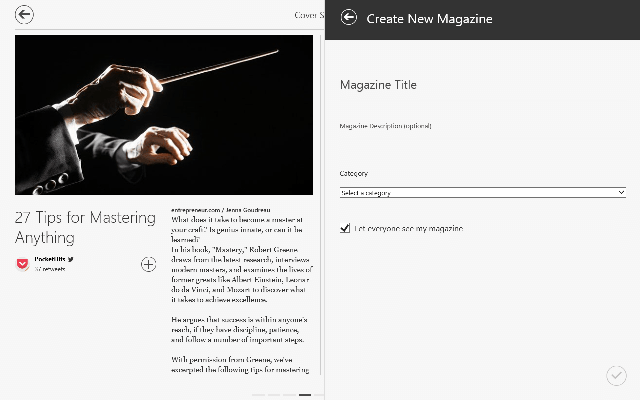 Click the "Discover" tab from the homepage.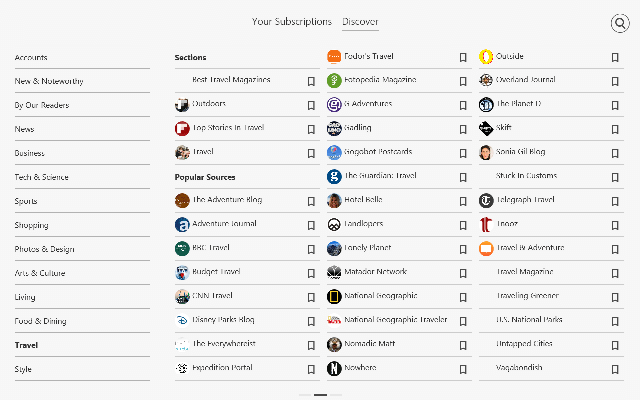 Here you can see a wide range of contents that you can read or subscribe to your home page.
Right click on the homepage and select "Sign Out" to sign out of the account.
How to use Other Options of Flipboard Windows 8 App
Right click on the screen when you open a matter.  You can see top flyout displaying the recommended magazines for you. And the bottom flyout displays Home, Profile, Pin to Start, Flip, Report and Refresh options.
Home – Click on the home option to go to the homepage.
Profile – Click on the profile option and go to your profile page. There click on the pencil button to edit your profile name. You can even add a profile picture for your account.
Pin to Start – View the selected category directly on Start screen.
Flip – Create new magazine from here.
Report – If you want to report any problem then your page will be hidden and will be further reviewed by the Flipboard team.
Refresh – Refresh current page.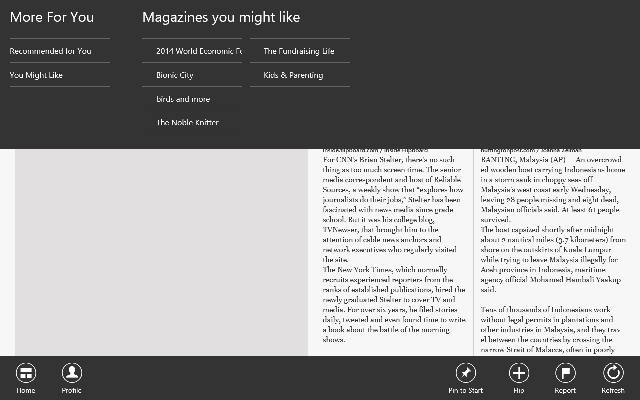 Right click on the home page and you can see options of Profile, Sign Out, Edit, and Refresh. Profile and Refresh option works same as explained above.
Sign Out – Click "Sign Out" option if you want to sign out of the Flipboard Account.
Edit – Click on the "Edit" option to remove the contents from your subscriptions page.
How to Add Content to your Subscriptions Page
Click on the "Discover" tab.
Select the area that you wish to add.
See the wide range of contents.
Click on the sign which is just beside the matter.
The topic has been added to your subscription page.
Flipboard Features
It is free of cost!
Everything is stored in your own created magazine.
Save the matters and create the magazine.
Cover Stories with recent updates.
Connect with your friends with 12 different social networking sites.
Access wide range of contents via Discover option.
Add or edit the content from the subscription page.
Pin your favorite topic to the Windows Start screen.
Search anything and share it through your magazine.
Available in 18 localized editions.
Conclusion
Flipboard is one of the best apps to gather the updated news of your choice. I would really appreciate this app because now I can track my required news and share it with the family and friends. Launch this app in your Windows 8 computer and enjoy your own magazine with your choice of news, videos, audios, and photos on every subject.