Hidden Garden Word Mystery is a Windows 8 game app to assume the secret words. This is a word puzzle where need to determine mystery word without any suggestion provided. The only trace is the category name displayed on top of the screen. You get all the English alphabets and some garden related objects at the bottom of the screen. Based on the category name, you have to assume the word.
All you have to do is to randomly select the alphabets and when you click on the correct alphabet it is automatically placed in its position of the word. There is a small twist in assuming the word. If you select any wrong alphabet, one of the garden related objects is deleted from the list. When all the objects is deleted you lose the game. But if you answer the word correctly you gain the last two lost objects and another category to answer. Playing Word Mystery you will feel real curiosity and fun.
Recommended:
How to play Hidden Garden Word Mystery
Launch the application from the link provided below or own it from the games/puzzle category of Windows Store.
Once installed in your computer you can see the home page of the app.
Click on the "Play" option.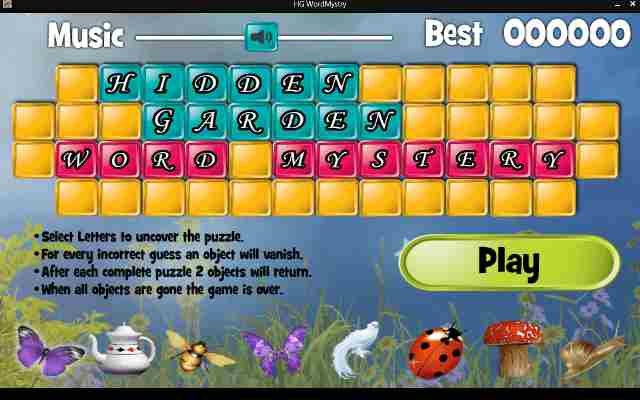 You can see the name of the category on top and the alphabets and garden related objects on bottom of the screen.
Click on any alphabet and see whether it's correct or not. If it is correct it will be placed on the space provided for the word. And if the selected alphabet is not there in the word then you will lose one object.
You can assume the word once you fit a few correct alphabets on the place.
If you answer the word correctly, then you will get next category and gain last two lost objects.
But if you lose all the objects, your game is over and you have to start again.
Hidden Garden Word Mystery Windows 8 App
Interface of this application is very attractive and highly policed. Garden objects looks beautiful and the background music that goes on while playing the game will definitely please your ears.  Interface of the application is very handy to use.
Features of Hidden Garden Mystery App
The application is totally free of cost.
Excellent background music.
Great graphics.
Handy to use.
Conclusion
Hidden Garden Mystery App will increase your word assuming power. The main advantage of this game is that you will learn how to assume words when you don't with any suggestions. At the beginning you will find bit difficult but when you grasp the game you will enjoy it the most. You will make yourself surprise by assuming the correct words. This is the best app for all those who love to learn new words. So launch this app on your computer and see how many correct words you assume without any suggestion given to you. Hurry up!
Get Hidden Garden Word Mystery App