It so happens that a favorite music video or a movie that you have downloaded from the internet on your PC plays without any problem. You decide to watch it later on your mobile phone and transfer it to your cell. It is then very annoying to realize then that the particular format of the video isn't supported by your cell phone. In order to help you out with such problems, there is a very helpful utility by the 'Ellora Assets corporation' known as the 'Freemake video converter'. Let's have a look at the features of this video converter:-
Freemake helps you convert videos to and from all the popular formats as AVI, MP4, WMV, MKV, SWF, 3GP, DVD, MPEG, MP3. You can also convert videos to iPod, iPhone, Android formats or even rip/burn DVD. You can also burn videos to Blu-Ray or upload them to YouTube.
Freemake is available on the web absolutely free and can be downloaded without any cost.
Freemake offers the comfort of converting to and from even lesser known formats as 3G2, SWF, TOD, AVCHD, MOV, DV, RM, QT, TS, MTS etc.
Freemake allows you to import music (in MP3, AAC, WMA, WAV) and photos (JPG, BMP, PNG, GIF) and convert them into videos for free. There are around a total of 200+ formats available.
Freemake permits you to convert videos from 40 plus video sites after downloading. Paste video URLs from sites as Hulu, MTV, Vimeo, Dailymotion, Facebook, Comedy Central, Megavideo YouTube,  etc and then directly convert them into the format you wish.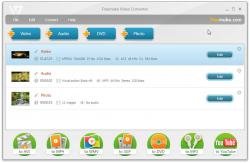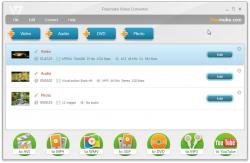 Freemake offers the comfort of support of the most popular i devices, Sony PSP, PS2, PS3, iPod touch, Nano, 5G, Blackberry, Xbox, Apple TV, Android Phones, Tablets, and smartphones.
With Freemake, you can not only burn Blu-Ray videos but also create Blu-Ray discs for audio, photos, URLs.
Freemake has an exceptionally long DVD time limit which is not limited to two hours but it can burn videos up to 20 hours. You may choose any DVD menu type as thumbnail, motion text.
You can customize your video output by changing conversion parameters. Choose your own video/audio codecs along with the frame size. You can also set an icon and then save all the settings for further use.
Freemake comes with CUDA technology that helps encode videos fast and occupies less workspace of the CPU.You just need to activate CUDA on your computer.
You can directly upload photos as slideshows and MP3 songs to YouTube in formats as AVI, WMV, MP4, 3GP, JPG, BMP, GIF, MP3 etc.The program will automatically cut the videos into 15 minute sections and then upload them as a playlist.
Using the scene searching option of the Freemake utility you can cut unwanted scenes from the videos. You can also rotate the videos or flip them. You can create a video by joining several video parts. The aspect ratio can also be set and black bars, stretch, zoom auto adjust added accordingly.
Requirement and Details
Freemake file size is 27.8 MB and it is a freeware by the 'Ellora Assets Corporation'. It requires Win 8/7/vista /XP as OS requirements.
Note – While you download the freeware and install it the setup program might include installment options by third party sites. Be careful to opt-out from such advertising software that might change your browser toolbar or homepage.