If you are eager to know about the details of your Gmail activity then usage of Gmail Meter is pretty interesting and enjoyable. Gmail Meter is an unauthorized Google Apps script which produces brief helpful statistics about your Gmail account activity.
Tips to Setup Gmail Meter app
First Step
To start work with this app, sign in to your Google Docs account and create a new spreadsheet.
Then click on Tools and select Script Gallery menu from drop-down menu panel.
Next look for Gmail Meter in the search bar and click on install button. You will need to authorize it before moving further.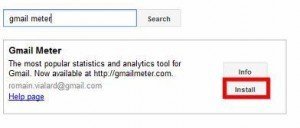 Second Step
Now you will note that you have got a new menu in Spreadsheets which is named Gmail Meter.
Next, click on Gmail Meter menu and select Get a Report.
On the next screen, you have to select either monthly report or a custom report option. Then monthly report option will send you a fresh statics report per days of every month. This option is a good inspiration if you wish to view everything on a regular basis.
While a custom report option lets you to discover stats or generate Gmail activity report of the selected time period like 20 days before.
As soon as the Gmail activity report is generated of the selected time period, you will get an email of it to your Gmail account. This email is packed with lots of remarkable stats for example like the number of voice chats you have done, the significant stats like the total receiving email, total email sent as on. Besides you will also get stats about all the working traffic sources with email categories in a fresh tab and in pie chart.