SkyDrive is online cloud service of Microsoft. It has lots of features which make it better compared to other popular online cloud storage services. It offers more than 7 GB storage capacity to store any type of file. After putting files at SkyDrive you may access or even share it quite easily. The storage facility of SkyDrive never let you alone with your uploaded documents, notes, photos and videos. We have written How to Access Skydrive with Gmail Account a few days ago. Now Microsoft has inducted new feature in SkyDrive. The new feature gives you freedom to recover any deleted files. Certainly, features of recycle bin are missed since advent of SkyDrive in public domain. Now, I am going to addressing issue of How to get back deleted files in SkyDrive?
Exercise of recovering deleted files from SkyDrive is as similar as deleting it. To delete files you apply put mark on before particular file. Whenever you choose delete option from manage menu the selected fill won't seen even more in list.
While you delete any file notification pop up of SkyDrive offers Undo option. Choose Undo option and get back your deleted files in such stance. In case you could care about notification pop up then deleted file moves to Recycle Bin; and recovering file from Recycle Bin needs to take few simple steps.
Select Recycle Bin option from left side panel of your SkyDrive accounts.
Click on deleted files and then after click restore button.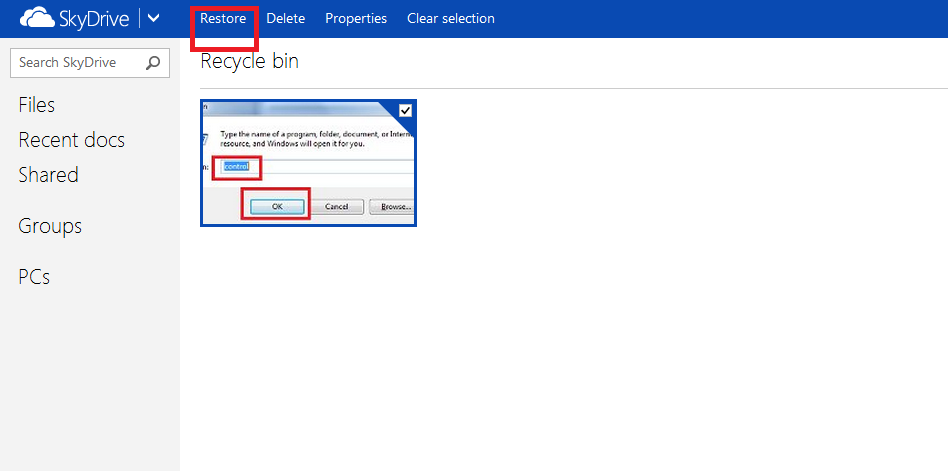 Besides of Recover and Delete option you may know about file properties by the help of properties button. Property options shows complete history of deleted file like date of creation, name of user, type of data and its size.