Every internet browser keeps the history of visited web pages with all web searches. It can be found by clicking Ctrl + H on PC.  You may use this feature and visit the web pages again without difficulty. This feature pay role of lifesaver for when a user fails to remember a significant URL.
Many users work with several web browsers (Firefox, Chrome, Torch) at a time. In this condition, he may feel trouble in getting an url in browsing data or its history. In this situation, a window does not let them look for the history of all browsers. Internet History Browser is a freeware handy tool for Windows version. It lets you get the browsing history of the entire main browsers at single platforms.
How to use Internet History Browser?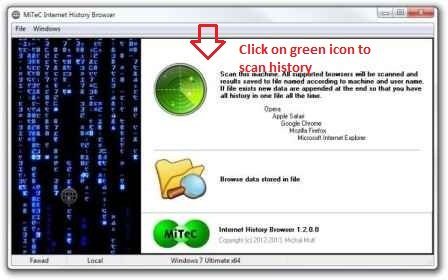 It will start the process of scanning supported browsers and display all the browser history on a list.
In the list, the URL links are arranged consistently with date and time. While you choose any URL link, it is displayed with title, complete URL address, visited date and the total number of visited times at the bottom section.
In order to visit the desired URL link again, make a double-click on the link or select and click on the Open button to launch it in default browser.
At the top panel of the tool, a search bar lets you to search for a particular URL link from the lists. By default, the search results are arranged according to dates.
The tool takes automatic backup of the history file in the system for future use. The saved file is found in the tool setup folder.
To start with saved file, go to main interface and click on Browse data stored in file option.
Next, select the saved file from the setup folder.