It is fairly common to work with multiple windows on a desktop at the same time. For example, we access browsers, music player, chat services and a lot of extra programs during our daily schedule at a time. But, these items create confusion on our desktop screens. In this confusion, it is simple that sensitive information on the displaying screen is tracked by others while we are leaving our system for some minutes. If we don't like to show contents of active windows to others then a handy tool named Windows Hider is a perfect choice. It offers us to hide active windows in two ways, either with a password or without a password. Windows Hider tool helps us to get rid of this confusion on the desktop and keep privacy on. Window Hider hides the specific windows. It doesn't leave any trace in the taskbar or system tray.
How to Hide multiple files just in seconds with Windows Hider on PC
First Step
After installing Windows Hider tool in the window system, it always runs in the system tray. To access it, right-click on its icon then it displays two menus (Hide and Show).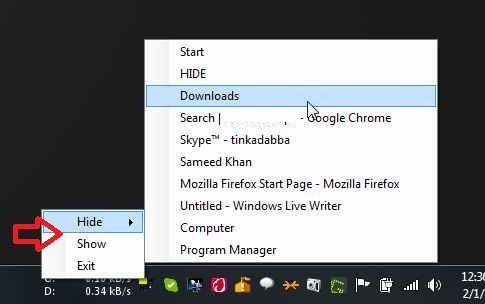 Within Hide menu, it lets to view names of all the active programs and windows on the desktop. Then it is simple to hide the selected items by clicking on it.
Next, a pop-up window appears in the center of the desktop. It asks us to insert password with the purpose to hide the selected items. If we don't want to start protection mode, check the box of No Password option.
Next click on Hide option.
Second Step
In order to bring back the hidden windows again with password protection mode, type the recently inserted password.
Next, right-click on a tool icon in the system tray and click on Show menu.
Then choose the essential window or program which we have hidden few minutes ago.

Windows Hider tool runs perfectly on every Windows version (32 bit and 64 bit). To run it, Microsoft Dot Net Framework must be installed at first.
Download Windows Hider from here