Microsoft wants its users to give ideas about Cortana so that they can make this amazing feature resourceful and productive. Microsoft considers the user's satisfaction in the first place. Once the digital assistant is capable, they can get maximum advantage out of it.
With the introduction of Windows 10, they have come with a novice tool which will work as a virtual assistant.  Users can give ideas about Cortana to Microsoft very easily. They can also let the tech giant know about their likes and dislikes in the perspective of this voice assistant. Additionally, users will get all sorts of information they want to know.
How to Give Ideas About Cortana to Microsoft in Windows 10
Firstly, let's have an idea about what Cortana is 
Cortana is considered as one of the revolutionary features of Windows10. Users can search anything they want to know using their voice only as well as typing in the search box. Users will get their desired information based on the suggestions provided by Cortana.
Cortana will give reminders to the users for schedules events, search results collecting from the web and answers of the questions you ask to it. Moreover, it will always be at user's side when they need.
Why to Give Ideas about Cortana to Microsoft in Windows 10
Cortana is a very much advanced technology launched by Microsoft as you can see number of frequently asked questions together with answers in it. But as we have already come to know that this feature is a kind of virtual assistant, it needs more participation of people in open source world. In order to make the Cortana more dexterous and productive, Microsoft is asking its users to suggestions about Cortana.
Way to Give Ideas About Cortana to Microsoft in Windows 10
Users can submit opinion and tips about Cortana to Microsoft by following the below instructions. These are easy and simple.
Step 1 – First of all, click on Cortana icon located just beside the Windows icon form your PC to open it.
Step 2 – You will find a User icon in the right pane. Click this symbol.
Step 3 – Proceeding forward, you will find three more options to provide feedback to Microsoft. There are options for Ideas, Likes, and Dislikes.
Step 4 – Select the option Ideas and Click on the box provided to type your suggestion in detail. You can click the Like as well as dislike options if you want. Click the option Send for submission to Microsoft.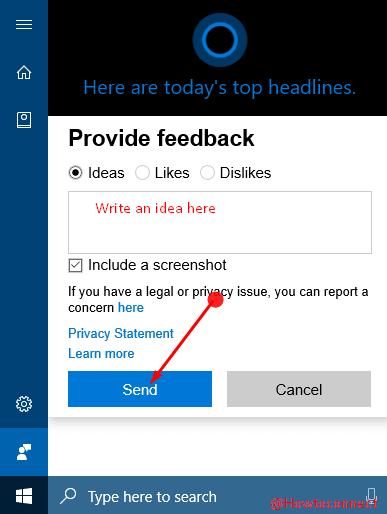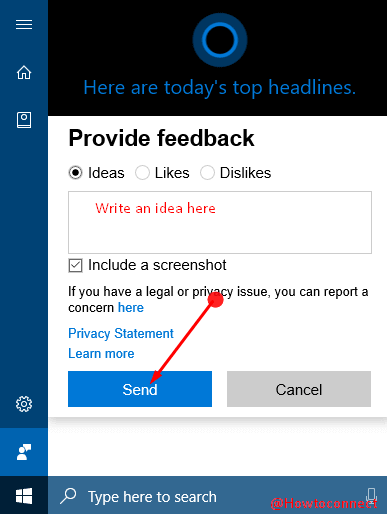 Isn't easy?
Microsoft takes account of all users opinion equally and places their satisfaction in the first place. They will review your ideas and use it for the advancement of Cortana.
Conclusion
Therefore you can  Give Ideas About Cortana to Microsoft in Windows 10 very easily. In lieu of using it for your help, if you want to disable it, you can also do that very simply. Apart from this, you can make several changes here to customize Cortana meeting with your preferences. Hope this will help you take the virtual assistant to take to a new height of technology.