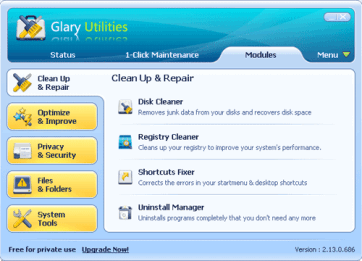 System Maintenance Application is thing which needed to run on time bound basis to enhance overall performance of Window optimize PC. In snippet of System Maintenance Application plenty of options are available in current time. But I commend " application for your latest Windows PC. The Glary Utilities is leading system maintenance application for Windows 8 PC. It is stimulus of Windows 8 PC performance by help of built-in maintenance tools. You may notice latent features of 'Glary Utilities Free' as well as link for installation in rest of the paragraphs.
The Glary Utilities Free is reliable and quick system maintenance software for Windows 8 optimized PC. It fixes major issues in Windows 8 PC. The Glary Utilities Free solves issues like slowness of booting process & PC errors without wasting time. It removes junk data and recovery disk space as well. You may recover deleted files or apply encrypt on files with help of this application. It also cleans up your registry to enhance performance of PC. It executes maintenance activity with single click. More than 20 system maintenance tools are arranged in 'Glary Utilities Free' software to perform system maintenance act. These tools are designed to manage Registry Repair, Memory Optimization, Disk Cleanup, File Security, Windows Startup Manager, Privacy Protection, Performance Accelerator and many others. Therefore application like 'Glary Utilities Free' is utterly required to get max service of your Windows 8 PC. So far 'Glary Utilities Free' availability concern, you may download it from bottom link. Anyone can use this application on their Windows 8 PC without paying a penny.
Note: Single Click on above application which maintains your Windows 8 PC to perform better in crunch situation. It is inevitable ally of your PC. Just grab it and install in your PC to stimulate performance every time.