To get new Passport, facility of online application is available now. Some passport offices in selected cities have started to accept printout copies of online application to issue passport. In this regard, Indian government has launched passport seva Kendra (PSK) which is running by TATA Consultancy Services (TCS).
To apply for passport in online way is preformed in many  steps. For this, firstly you will have to register in Passport Seva Website, then verify registration through email id,  then you will have to upload filled form on the website and  manage appointment in next seven days, and at last it will be finally verified by police by visiting on your address. So it is a time taking process. But Here I  am trying to make easier. That is why, tips and process of getting passport through online method is being described step wise. Get further:
1.   How to submit online for Indian Passport –
Online Registration at official passport websites –
To do it, to launch click on official website of passport seva.
Choose Register link  from left corner of main page. Now fill up each boxes in online form with personal details. Make ensure that you must have valid email address to complete passport registration in proper ways.
After registering online passport form successfully, you will get message as Thank You.
A registration link is dispatched to your email address. You need to remember that validity of the sent email link is only 7 days.

So, sign in your email account and click on link immediately in order to activate and complete passport registration procedure.

Login Passport Seva Portal –
Again go to passport official websites and click on login link nearby existing user option and type user Id and it's password.
Next you will have to across from verification process. Then view captcha text carefully and Type it in capital letters. Click on Login button.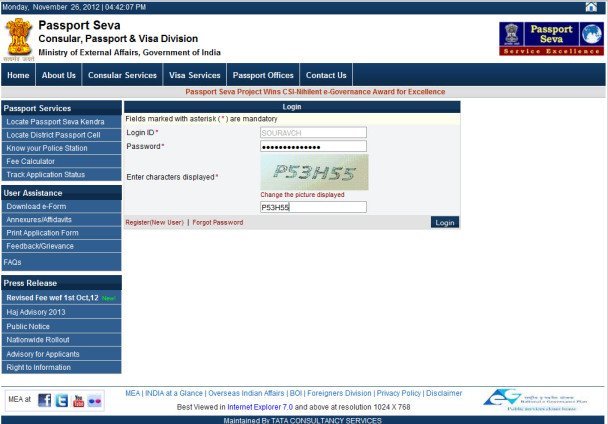 Then after click this link – Apply for Fresh Passport / Reissue of Passport
 Submit Passport Application –
You can submit passport application with two modes.
Download passport format, fill it and again upload the filled format to passport seva portal.
Otherwise you can apply passport application online. To continue click online apply link.
Then type accurate details in each box and hit Next button after ending each page.
Finally press this link – Save my details to submit your passport application online.

2.   Manage Appointment for Passport schedule –
In this process, you can undergo through several difficulties. So you have to follow every instructions fluently.
Important Instructions –
The appointment page of passport seva portal starts from 4:00 pm only for 5 minutes. So you are permitted to access in between schedule of appointment during 5 days (Thursday to Sunday).
The appointment page will confirm period of 15 days with different present time period. If you miss an opportunity in any day then you will have to wait 24 hours or next day to start passport appointment schedule.
To complete appointment of passport schedule successfully, you need to follow time policy of time management.
To start appointment of passport schedule – 
At first, sign in your passport account and click this link – Manage Appointment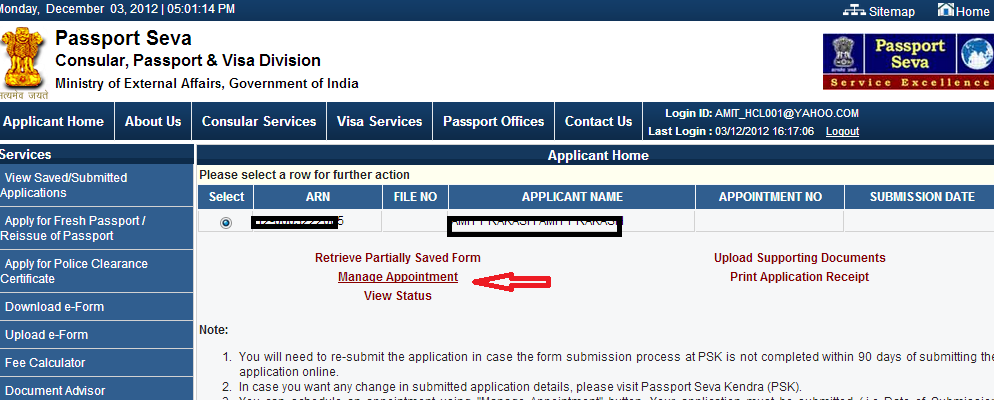 Choose your passport Seva Kendra (PSK) and type the captcha text quickly in capital letters.
At this stage, Passport seva portal website becomes slow down around 4pm due to huge traffic, so keep your patience and wait to page loading completely.
As soon as next page loads, immediate choose any present time/date.
 If you become successful in this process, you will be  given appointment format with serial no, batch no, date/time and extra details. Now take print out of this page at once or later if you save it.
This print out will be submitted at Passport seva Kendra of chosen cities and get a receipt with file number.
4.  Know Passport Application Status Online –
If you wish to know the current status of your passport application –
Click on this link – Track Application Status  in left panel under Passport Services section in passport seva portal .
 Next insert the file number with your date of Birth and choose Track option.

5. Police Verification –
In this process you will receive a call on mentioned mobile number from police station in order to commence police verification.Follow next instructions while they visit at your address or home on schedule date/time.
6. Passport Dispatch –
As soon as your passport will ready, you will receive an SMS on your mobile phones or email regarding to Passport Dispatch related details.