A Huge number of people use SBI Net Banking. Internet Banking had reduced the workload of the individuals. Now you don't need to stand in huge queues just to take the account statement. And the best part of Internet Banking is that you can generate, view or print the account statement if needed. You can get Account Statements through SBI Internet Banking for a specific month or date span. If you use Internet Banking of State Bank of India (SBI), then simply follow the steps to get your account Statement.
Read: 
How to get Account Statements through SBI Internet Banking
First login to your SBI Internet Banking Account.
Click on the Account Statement option available at the left side of the page from My accounts tab.
Clicking on the account statement link shows a list of your savings, current, deposit or loan accounts and matured or closed accounts at the bottom of the transaction account list as well. You can even get Account Statements through SBI Internet Banking for matured and closed account.
To view the statement click on the particular account.
To view the statement for a date range, select the start and end date of your selection. Choose dates if you want to see statement between two dates and month to see the statement of a particular month.
Now click on the appropriate option that you wish to do. To see the statement online, click on the View  option. Click the download option if you wish to download the statement as PDF or Excel file format.
The number of records per page option states the number of transactions you can see per page, like 25, 50, 100 or 149 records for the selected date range. If the number exceeds or equals to 150 the statement is displayed in pending statement link.
Click "Go" to view the statement.
You can see the account statement now. The top part of the statement shows the account number, account type, branch name, MICR code, and IFSC code of the branch, your name, CIF number and address, interest rate, drawing power, MOD balance, and balance.
The bottom part of the statement displays the details of all transactions that has been operated on the account in the selected date range. Each item carries the transaction date/ Value date, narration, internet banking reference number or cheque number, debit or credit amount and balance on the transaction date.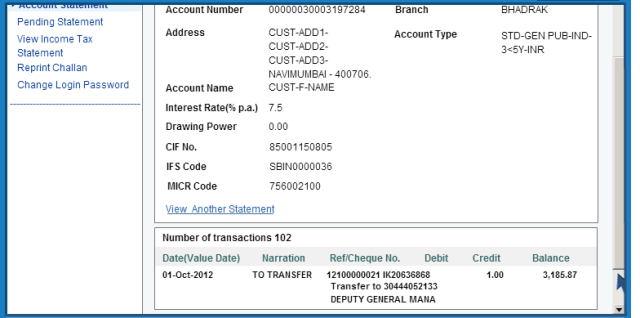 If you have not done any transactions on the account, or if the account is closed before the selected date range/month, then the account statement page will show you a proper message.
After downloading the statement you can print the account statement to use it personally or submit anywhere. SBI Account Statement shows transaction made in a certain limit of time you have chosen. If you want to find transactions of previous dates you can use this quite.