You may decide to avoid logon prompt and load Windows 8 directly without any delay and hindrance. Therefore, Automatic log on feature is the best solution to this issue.
If this feature is activated in Windows 8, you will not get Windows logon prompt and load Windows 8 directly.  But this feature is used in a single account.
Activate Auto Logon in Windows 8
First method –
Open RUN box via insert (Windows Key + R) Shortcut and type command – netplwiz
You will find new window (User Accounts) including two tabs on the top side.
From users tab Uncheck the option – Users must enter a …………. This computer.
Hit on Apply button then new window (Automatically Sign in) is appearing.
Here you have to insert password (Correct and confirmation) and hit OK.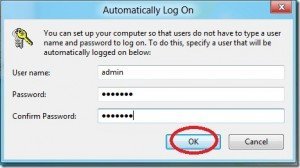 If you have tried these tips in your Windows 8, restart computer.
Now cooling experience is ready to share as there is no need to insert the password in login prompt Startup and Windows 8 will be loaded directly.