Gmail is the most preferred product of Google and provides best email services and solutions among corporate, commercial, professional, and personal internet users Worldwide. As we know Google also presents a lot of internet services (Blogger, Alerts, Orkut, Docs, Google Talk, I Google, YouTube, and more. But sometimes internet user feels trouble with their Gmail account due to personal reasons or receive unwanted mail regularly. They decide to permanently delete Gmail account forever.
Remarks: – There is no option to recover Gmail account again in case of deleting once, So store backup of Inbox, contacts, data, profiles, etc in your computer before performing the next actions.  Steps to delete Gmail account –
How to Delete Gmail Account Permanently
Login Gmail account.
Click on gear icon from the top side left panel and Choose Settings option.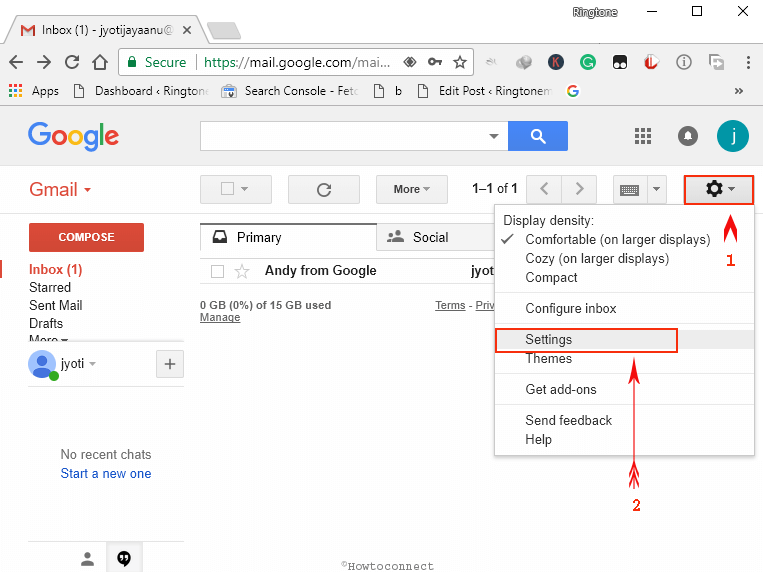 Now click on Account and Import.
Then select option – other Google Account Settings under "Change account Settings" section.
A new tab page showing tiles for Sign in & Security, Personal info & Privacy and Account preferences will open.  Here, choose option Delete your account or services from the right side.
Finally, Click on Delete Google Account and data button.
Gmail will send you to the Sign page to ensure that it is you who are trying to permanently delete Gmail account.
Enter your password and allow the Delete your Google account page to load.
Don't forget to download your Google product data Data before the deletion
If you are careful to save your data of different services and products click download your data link.
Navigate to subsequent tab and turn on the preferable Products and click on Next.
Again go to a new tab and choose the File type,  Archive size (max), and Delivery method. Remember that you can send these data to either of Google Drive, Dropbox or OneDrive in the delivery method dropdown. In these cloud services downloading processes are pretty easy.
Once you have selected the options click on Create archive.
Now Back to delete Gmail account permanently
Back to the previous tab Delete your Google Account and check both boxes before for confirmation purposes. At last, Click on Delete account.
The process to delete Gmail account permanently is done. The internet user cannot log in this account from next time.