Facebook is a popular social networking website and about 800 million online users use it nowadays. It spreads enjoy and fun with connected users. Facebook facilitates various features to their online users for example – advertisement, online text messaging, video chat, sharing favorite videos and personal images, idea, opinion about current affairs etc. But sometimes you like to disconnect with personal Facebook account. It may be due to some personal causes and ideas or anything. But, if you want to delete your Facebook account follow the process given below:
At first, you will have to understand the meaning of difference between deactivation and remove Facebook account permanently . Deactivation is used to disable Facebook account for short -term, and another online user is unable to view your account profiles until you will activate again . Remove of Facebook account is referred as your Facebook account contains profiles, images, ideas, etc will vanish forever from facebook.com.
How To Deactivate Facebook account permanently
If you like to deactivate your personal Facebook account temporarily then follow these tips for it.
Step-1
In General account setting window.
Now click on Home button and select Account Setting in drop down.
click on security in left side, Then select option Deactivate Your account .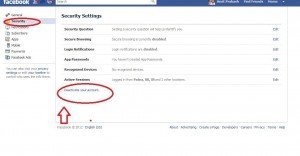 In new window, choose the following option (Reason for leaving), explain details, check Email Opt-out , click on confirm button.
 Now Facebook account will be deactivated permanently, and your account profile will not show to other friends online until you login again for reactivating process.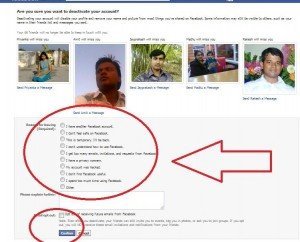 How to Delete Facebook Account
Remarks:-
If you have decided to remove Facebook account forever then take backup or download of Facebook data or everything on computer. otherwise, it will be lost.
Facebook account removing procedure (cancellation period) will be performed in 14 days by Facebook official team.
Now copy  facebook account remove link  and paste in browser top  URL address bar – http://www.facebook.com/help/contact.php?show_form=delete_account
Type  Facebook  ID and Password in URL address bar.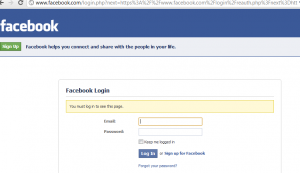 The open window is showing message – Delete My Account and cancel . Here click on Delete my account.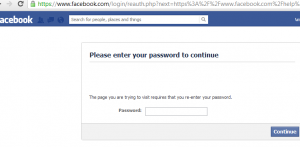 Go to  Security check text window, type showing same Security text in the blank box, and select Okay button. Otherwise, you may also cancel your ideas at this time.