Twitter is becoming the favorite of millions around the world for expressing their thoughts. Even world-class leaders are connecting with people through this social networking site. There are many activities to be performed on Twitter.
Here are some of the ways to deactivate a Twitter account. This deactivation process is not available for mobile devices. Always Twitter's official website must be visited through a computer system.
How to Delete a Twitter Account Permanently
login into Twitter's official website: Twitter
Select Settings and Privacy.
and then a click on Deactivate your account.
Before account deactivation, read the information carefully then click Deactivate@youraccountname.
Then enter the password and verify the deactivation of the account.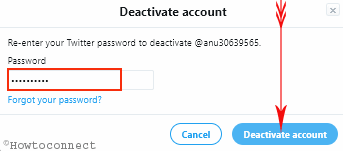 The information to be noted before you Delete a Twitter Account Permanently
The Twitter from the day of deactivation only retains the user data for 30 days before the account is permanently deleted.
The account can be again activated within 30 days.
The account does not require a deactivation for hanging the username and e-mail address. It can be changed anytime from account settings.
The username and the e-mail id must be changed, and changes must be confirmed before deactivation for using them in some other account.
Twitter never controls the content indexed by Google or Bing.
The account is usually removed within few minutes of deactivation, but some content would be visible for few days.
 Deleting a TweetDeck account never deactivates a Twitter account.
Processes to make the username or email address available to reuse before you Delete a Twitter Account Permanently
The settings page should be visited from the drop-down menu.
A new username should be chosen in the user name field.
The e-mail address should be chosen to the new one in the e-mail address field.
The e-mail id and username can now be used with a new account.
Then, the deactivation process can be followed.