Today, use of Android among mobile users is found everywhere. As you know Android is part of Google smart phones. The Android has become popular more due to a vast number of handy features and essential apps. The Google has offered Play store to install every type of apps openly.
On another hand, it is necessary to know how to run Android as fluently?  For information, every app of Android keeps short-term data that is called apps cache. If apps Cache is not deleted at times then built-in storage spaces is being filled up gradually and at last, it affects the performance of computer.
I have written similar posts before like how to clear apps Cache in Android 2.3 and 4.0 ? Now Android latest version 4.2 Jelly Bean has come up. So, Google has given handful tips to delete entire apps Cache in few seconds.
To do it –
Firstly tap on Settings option on the Android 4.2 device.
Next choose Storage option in drop down lists panel.
Then an option Cache data prompts with different options and tap on it.
Now a confirmation pop-up box appears about delete operations and tap on OK.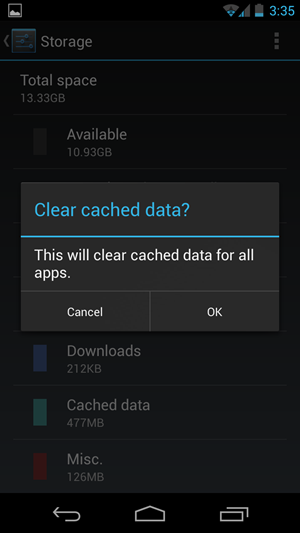 Within few seconds, entire apps cache will be deleted from Android devices.