How To Download and Install Microsoft Office 2013  – Microsoft has achieved a lot of successful response and loud after presenting Windows 8 Preview product. So Microsoft Office 2013 Customer Preview has been launched in 2012. Actually, Office 2013 is known as Office 15.
Now that Office 2013 Preview is available to download in both modes (32 bit and 64 bit). Only Windows 7 and Windows 8 users are eligible to access office 2013. The productivity is named as office 365.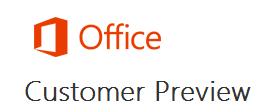 At first, we have to understand about Office 2013 preview product. It is divided int 5 categories.
Office 365 Home Premium – for general and home consumer
Office 365 Small Business  Home Premium – For Business Purpose
Office Pro Plus Preview –  Office application
Office 365 Enterprise – For Customer Management,
Servers and more – Share Point, Exchange, Project, Vision purpose applications
We can see more about office 2013 feature from office blog website.
How To Download and Install Microsoft Office 2013 (365 Home Premium)
At first, go to Office Preview 2013 website through below link.
Click on sign up link under For Home option.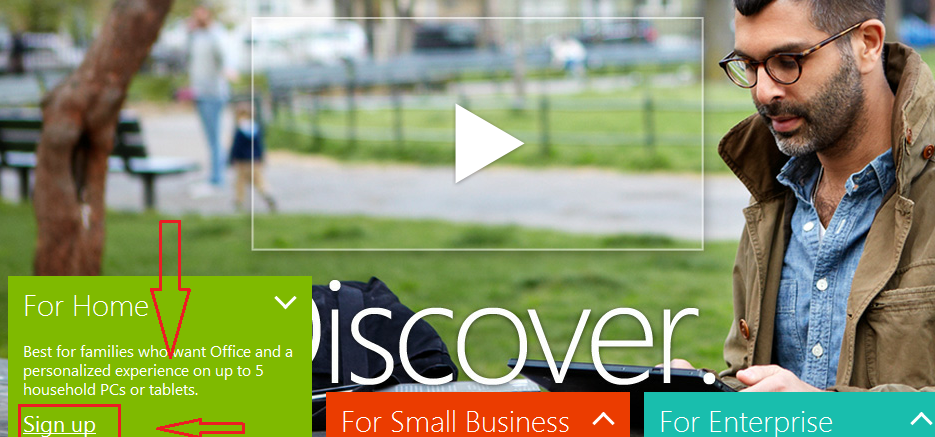 A new tab (Welcome to new Office) is appearing. Here Click on Try now link at the bottom.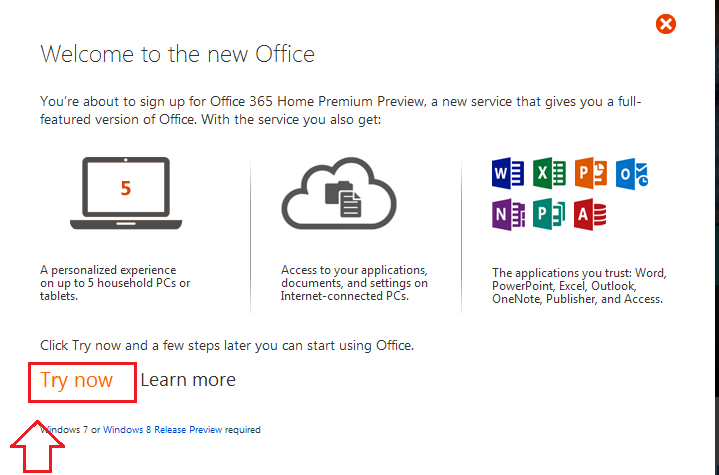 We find Sign in tab and type any Microsoft account supported email id and password (Hotmail or Live).
As soon as we log on to Microsoft account, a web page of the download link is appearing.
Remarks
Per copy installation of Office Preview 2013 could be done not more than five times with single Microsoft supported account. So we have to create more than one live or Hotmail account for the installation process.
If we click on Install link, it will download 32 bit supported MS Office 2013 preview version default.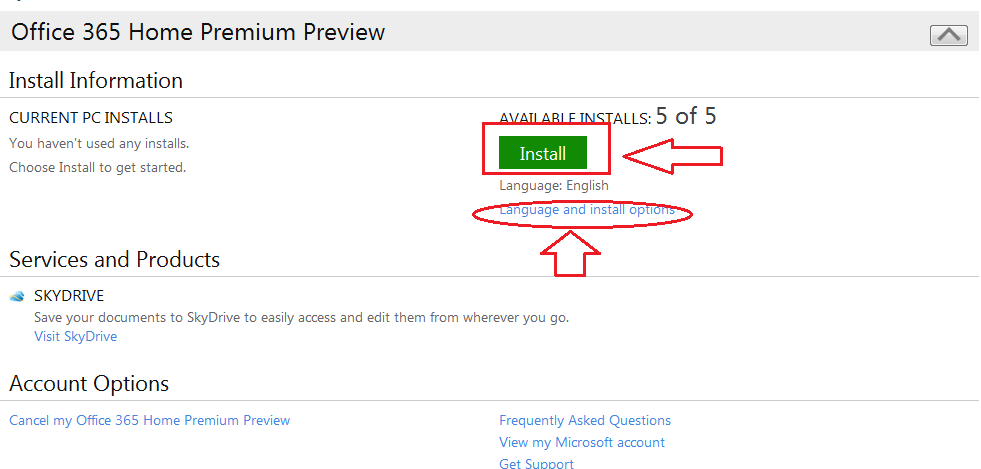 Note –
If 64 bit supported Windows OS has been installed on the computer, then 32 bit Office version can not be installed.
For downloading 64-bit supported office 2013 version, Click on Language and Install Option link.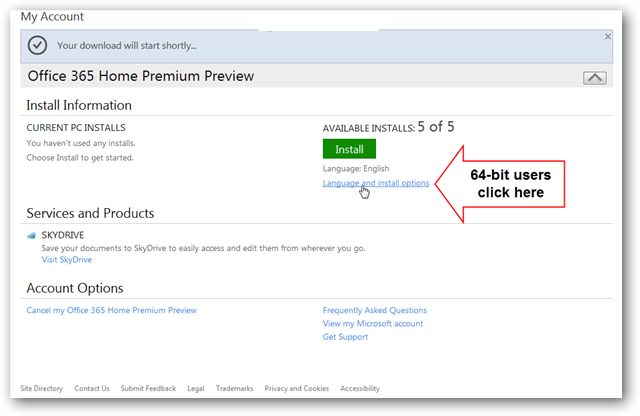 We find extra installation options tab in a new window. Click on the drop-down box and choose Office (64-bit) option under Version tab.
Now click on Install option to start the download installer file and it will be saved on our computer.
Double click on installer files on desktop or target folder.
In few moments, Installation of Office 2013 will start in a new red tab with streaming process of application verification. Wait few minutes to complete it. We must connect our computer through high-speed Internet to continue the setup process further.
In a new tab, the setup process will ask to connect the Internet to start the installation.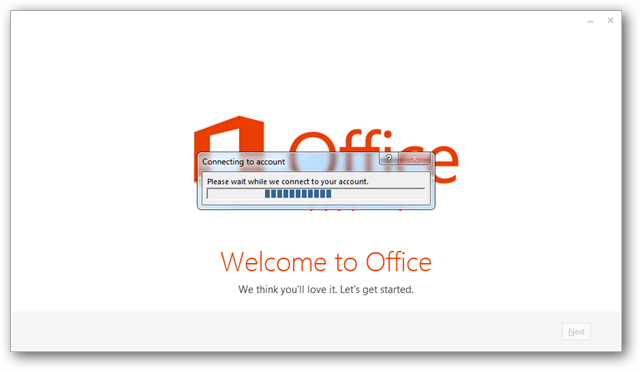 In a new tab, we have to click on sign in link.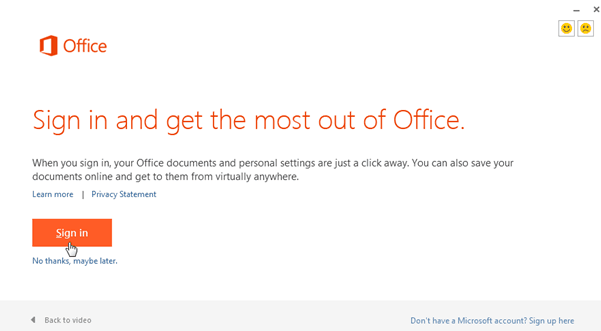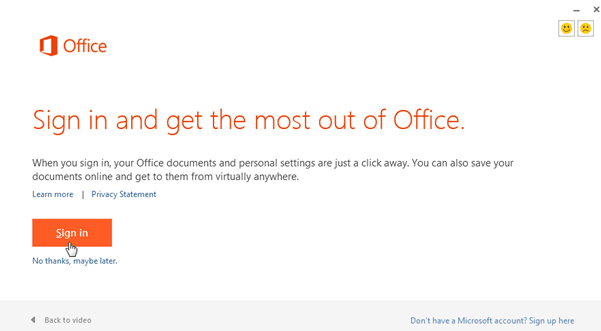 Now we will connect through windowlive.com automatically and type live id and password. Click Sign in button.
At last, in setup window, we can view the detailed information about Office 2013 preview new features in the PowerPoint presentation. So click on Take a look link. We can also click on No thanks link to avoid it.
Now Setup process of Office 2013 will continue in background mode and take several minutes.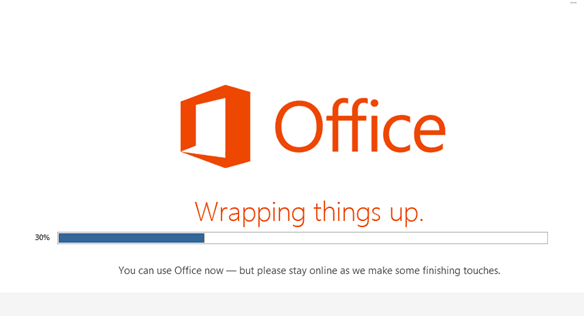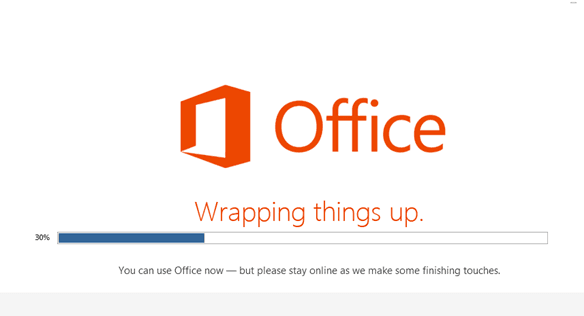 After completing the setup process, we can start Office 2013.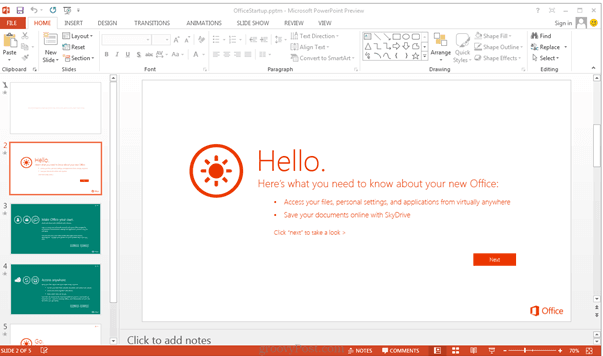 Now this version is ready for any device as for Android, smartphones, tablets etc. You can get Office 2013 on your demand. After you Download and Install Microsoft Office 2013, you could see User Interface is cleaner, and performance is improved. You could experience a distraction free advance features. The Performance of Office 13 is outstandingly improved. You will be enforced to say great, wow etc word after using it. From your Office 13, you may share your document with almost every device. With Office 2013 Skydrive is also delivered. So you can share your photos, documents, files, etc with your Skydrive Account directly with this version.