HDR Video Calibration is an awesome feature of Windows 10. If you are a media lover, then the latest version of this OS provides you an option to manage this. Previously, running good quality high-resolution videos were not easy on your computers. If it would run even, the quality is very low as well as fuzzy. But now you can use HDR Video Calibration in Windows 10. Once you enable it, you will see a tool using which you can calibrate the video. To accomplish the task, your PC should be running the build 17063 of Insider or higher. The Video playback section in the Apps Settings page included a new tool that lets you fine-tune your videos. So, let us head towards the series of steps and learn how to access this option. You can read our another related tutorial How to Automatically Process Video to Enhance in Windows 10.
How to Enable HDR Video Calibration in Windows 10
Step-1: Go to the Start Menu from your PC and hit the Settings icon. The system will directly open the default Settings homepage in Windows 10.
Step-2: Reach out to the Apps from various categories and click on it.
Step-3: Click on the Video playback section on the left pane of the following page. Quickly jump to the adjacent right side to click on the Calibrate your display for HDR video link.
Step-4: HDR video calibration will open. A sample video will appear on screen with adjusting tool under it. Start calibrating the video using adjusting tool. Leave the Settings one you have reached the satisfactory calibration. Thus, you can play the High definition videos to the big screen from your Windows 10 PC.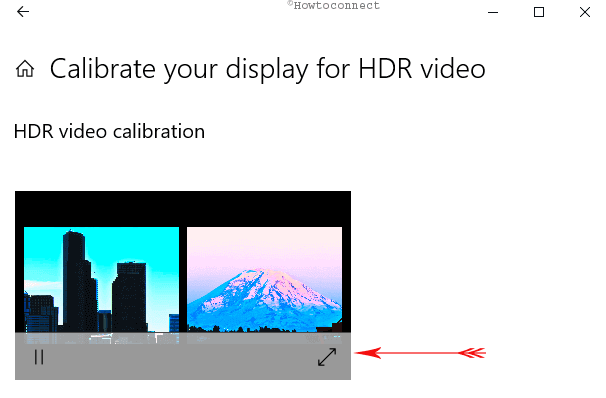 HDR Video Calibration in Windows 10 is one of the nice features. Microsoft has released the Windows 10 build 17063 version in late 2017. With latest enhancements and amazing features, experts are saying that it is the biggest buzz in the industry. Once you balance the quality of the video, you can have a smooth experience of the playback.
Conclusion
When you can Enable HDR Video Calibration in Windows 10 you can play good quality videos on the big screen from the computers easily. Movies and videos in big screen are always amazing. In earlier days, users were unable to run some good quality videos like HDR on their computers easily. But Microsoft is making the Windows 10 more resourceful by updating it regularly. We tried to elaborate the way to do the task simply in above description. Hope you can do it easily after reading the steps properly. Thus, you can enjoy best video experience on Windows 10.