You are now able to Reset, Terminate and Repair Microsoft Edge on Windows 10 to fix any trouble if occurs in the built-in web browser. If you get the issues like Microsoft Edge will not open, hangs, freezes, won't close, running extremely slowly these tools will work. With the Insider build 17063 version, your problem with browsing will be easily solved using these options.
How to Terminate, Reset, and Repair Microsoft Edge in Windows 10
Step-1: Hold down Windows + I shortcut keys in order to invoke the default Settings app. From various categories, select Apps.
Step-2: A list of installed applications will be opened in the right pane. Locate Microsoft Edge from the list scrolling down slowly. Click on it to open details and press Advanced options.
Step-3: You will see Terminate, Repair and Reset option on this page. See how these tools work and choose accordingly –
Terminate Microsoft Edge
If Microsoft Edge doesn't respond Terminate option will close it at once. All the processes related to this app will be force ended. When the browser freezes, hangs or doesn't work good this tool will shut the browser.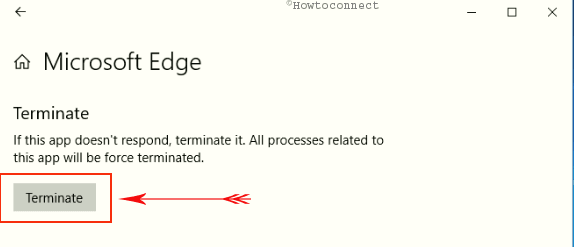 Reset Microsoft Edge
When you open Microsoft Edge after terminating and it still doesn't work reset it. You will lose some data including browsing history, cookies, and settings but the browser will save the favorites. When you need to revert back your customizations and restore all the Settings to the default, this option will work. Many times, it stops working because you have made unwanted manipulations here. In addition, when you use to Reset Microsoft Edge it will speed up the browser.

Repair Microsoft Edge
If Microsoft Edge is not working right, you can try to repair it. The app data wouldn't be affected. This button will fix any type of issues of Microsoft Edge. When the browser doesn't perform well and faces not launching, hanging, freezing, won't close, running slowly and other issues you need to use Repair option.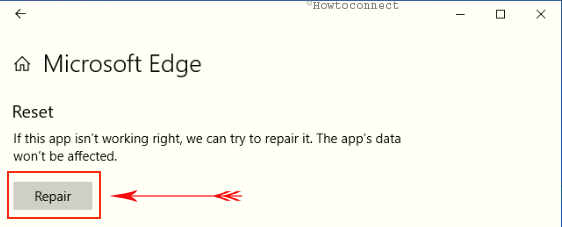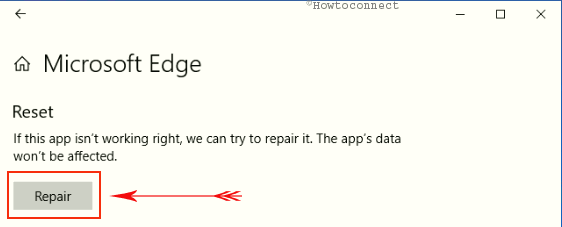 Microsoft Edge really needs a Reset tool as Chrome and other browsers have already included. It is now available but not in the browser, rather in Windows 10 Settings application. Moreover, Two more options Terminate and Repair also exist here to deal with Edge issues.
This is how you can Terminate Reset, and Repair Microsoft Edge in Windows 10.
Microsoft is on a mission to make Windows 10 greater than everything. As a part of this, they are relentlessly releasing updates with excellent features making it easily accessible to all.
Final Note
Therefore, these are the easy ways to Reset, Terminate and Repair Microsoft Edge in Windows 10 accessing the default setting app. Since Microsoft is trying to make Windows 10 a revolutionary one, it has introduced this browser with powerful security. After all, these things, someone can attempt to come for it. Or else, it can start malfunctioning.