You can easily  Enable Mario in Google Maps on Android and travel with this fictional character wherever you want. Google updated the Maps bringing your childhood back in the application. A new yellow icon is introduced to call Mario for navigation. Mustachioed plumber sitting on its Kart replaces the position marker.  But the exemplary change that has made by Google here is the inclusion of Easter eggs which is kept hidden in the software.
How To Enable Mario in Google Maps on Android
Step-1: Launch the Google Play Store on your Android device and type Maps in its Search box.
Step-2: Once appears in the search result, tap the Update option to get the latest version.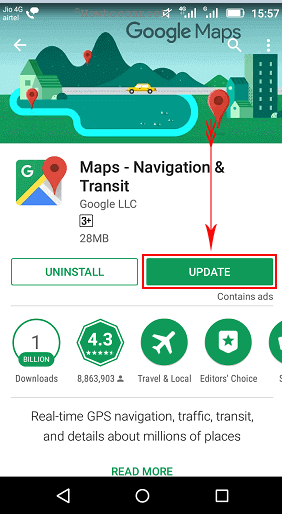 Step-3: After successfully downloading the update and installation, select Open to launch Maps app on the device.
Step-4: On its interface, type the name of a location you want to visit in the search box and select the exact location from results.
Step-5: Tap Directions to find the route.
For reference, read How to Set up Google Maps Navigation on Android To Get Directions.
Step-6: On the next screen, you will notice a "?" (question mark) icon available beside the Start button, click on it.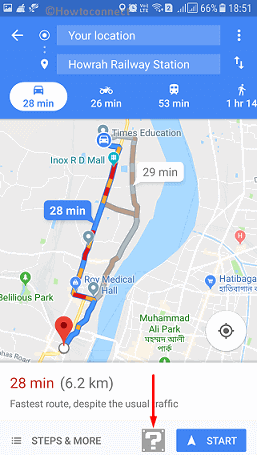 Step-7: From the popup representing Mario time, select LET'S-A GO button. You will hear the most expected sound from Super Mario game.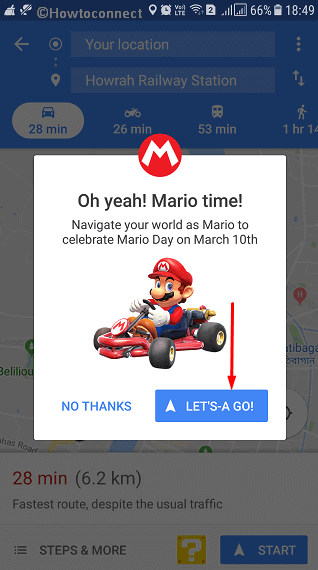 Besides, a cartoon plumber on kart will appear instead of the arrow used to be in the circle. This will move with you once you start moving until you reach the destination.
How to Enable Easter Egg in Mario Time
1. Follow the above method up to step-5 and reach up to Google Maps showing routes.
2. Tap the Yellow "?" icon 100 times quickly until you hear 1-up sound same like the one from "Super Mario Bros" game.
Get Keyboard Shortcuts to Maps Windows 10.
Mario in Google Maps on Android
Google corp. combining with Nintendo removed Pokémon from Google Map back in 2014. These two giants again reunited to introduce Mario Kart in Google Maps on the 10th day of March honoring the mustachioed plumber from the most popular childhood game Nintendo. This feature is available in the updated version of mobile app both in iOS as well as an Android operating system. However, it's easier to Enable Mario in Google Maps on Android and you need to update only.
That's it and this is how you can Enable Mario in Google Maps on Android. Moreover, you can also activate Easter egg in Mario time once you are really bored with navigation. This update is available throughout, so, don't waste any more time. Hence, update the app and travel to childhood.