In Computer system, the function of Hibernation is made for the restoration of active screen and programs in previous mode. Not only in earlier Windows but also in Windows 8, option Hibernate does not display in a usual form. Activating this tool and making it in use do the wonder.
How to Activate Hibernate in Power button in Windows 8 is something that is commonly asked by a user? The button of Hibernate is existing in Power option of Control Panel and making change in the system as given method it could be activated. Let's proceed to activate Hibernate in Power button in Windows 8 in order to reinstate active screen in antecedent mode fetching from memory after startup.
Activate Hibernate in Power button in Windows 8
First method
Use Dos Command
Open Charms bar by pressing WINDOWS KEY + C  Shortcut along with at the same time.
 Type command prompt in the Search box in the charms bar.
Choose Command prompt from search lists and select Run as Administrator by right-clicking on it.
Or You may also Open Command Prompt window by RUN tool.
Press Windows +R shortcut at a time and open RUN,  Type Cmd and Click OK button. Now Command Prompt window is displaying.
If you want to enable Hibernate  in the power button then type in command prompt window  – Powercfg /h ON
Close Command Prompt and now you will find Hibernate menu in Power button.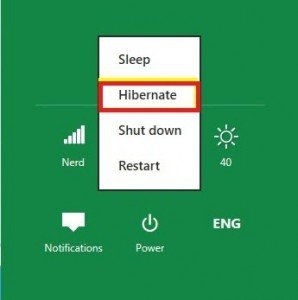 If you want to disable hibernate  in windows 8 then open command prompt and type command – Powercfg /h OFF
Second Method
Activate Hibernate in Power button in Windows 8 by Control panel
Press Windows Key + I shortcut to Open Settings panel.
Hit on Control panel option.
On the Control panel window, find Power Options menu and click on it.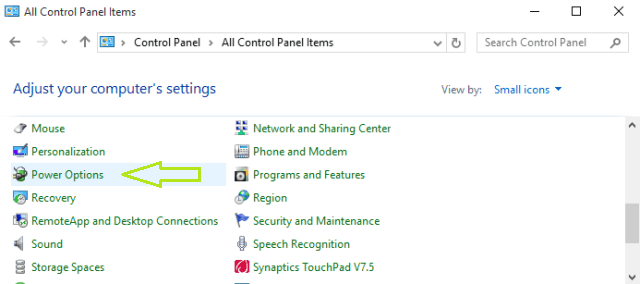 In Power Options window Click on this link in left side- Choose What the Power Buttons do.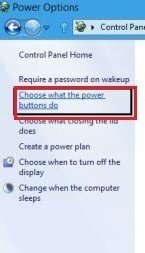 A new window like System settings displays on computer screen. Click on this option – Change Settings that are currently unavailable.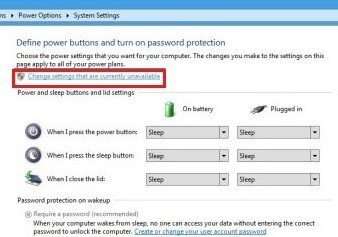 Now it shows a new window in front of you.
Find Power Options Settings tab here. Check the box- Show Hibernate

Click on Save Changes button at the bottom.
Now Hibernate option will activate and it displays in the Power button.