Quick Launch toolbar on Windows 8 Taskbar is an important tool to open different programs quickly and conveniently. Actually, Quick launch button is used to run any software or Windows application directly through a shortcut from Windows 8 taskbar which you have added. It also permits you to add favorite software icons to itself to access quite easily.
If you have no idea about Windows 8 quick launch toolbar, you can follow the tips given to Enable or Disable Quick Launch Toolbar in Windows 8 i.e. the program's shortcut on this.
How to Enable or Disable Quick Launch Toolbar in Windows 8
Go to taskbar panel on the windows screen. Hit a right-click with your mouse and opt New Toolbar in Toolbars drop down menu list.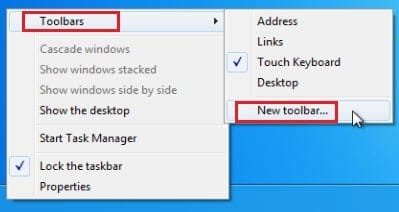 A new tab will display. Type the following codes in folder box at the bottom.
%userprofile%\AppData\Roaming\Microsoft Internet Explorer\Quick Launch
Click on the option Select Folder in the current tab.
Now quick launch feature will be displayed in taskbar panel.

How to make customized look for Quick Launch toolbar
Hit right-click on the taskbar panel and uncheck the option Lock the Taskbar.
 Move the mouse cursor on the quick launch button and hit right-click. In the drop-down menu list, uncheck both the options – Show Text and Show Title
Now the user may drag quick launch toolbar wherever he wants.
Disable Quick Launch tool 
Suppose you have decided to disable Quick Launch tools from the taskbar then
Right-click on the taskbar and uncheck this option from the menu list –  Quick Launch. 
Now the Quick Launch button vanishes from the taskbar in Windows 8.
Remarks
Users may also apply these tips to Windows 7  and enable or disable quick launch button.