The act of Installing or Uninstalling Software is something that an average user looking for. In the earlier article, we have discussed how to install Windows 8 on your system. Therefore, one lone issue of Uninstallation of Windows 8 is left for addressing. We all know that Microsoft has published Windows 8 beta version. The original version of Windows 8 in different editions will be released by the end of October 2012.
But if you have decided to remove Windows 8 beta version from your dual booting, you may follow the provided steps to Uninstall Windows 8 from Dual Boot.
Uninstall Windows 8 from Dual Boot in PC, Laptop
First method –
Choose default Operating system in your computer
First, start Windows 7 computer. Type the following commands in the Search box – Advance System Settings.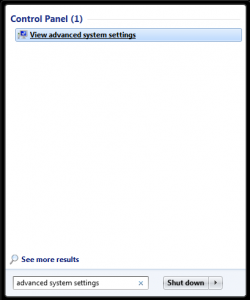 Choose the option View advance System Settings from the drop down list and click on it.
 A new dialog box including multiple menus is open. In this, System properties will appear in front of you.
Click on the Advanced option and tap on the Settings button in Startup and Recovery section. 
 Now you see a new tab with the name Startup and Recovery. Here, you have to choose the default Operating system of Windows 7 in the drop-down list. Finally, click OK button.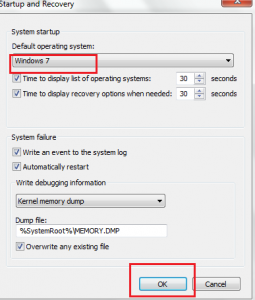 Removing Windows 8 from dual booting in your computer
 Open Disk Management tools with the help of this process – Go to the Search box and type Disk.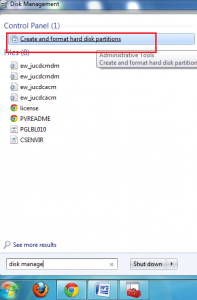 Click the given option in search list – Create and Format Hard Disk Partitions.
Now Disk Management window will be displayed.  Here, you will find Windows 8 partition. Remove it via right-click.
Restart your computer. Windows 8 will be erased safely without losing any files in Windows 7.
Now you have to follow this process to finish work – 
First, start Windows 7 on your computer.
Type msconfig in the search box of the Start button and click on it.
A new window will be displayed by name System configuration.
Click on the Boot tab.
In the Boot tab, choose Windows 8 which is the default option at present.
Click on Windows 8 and press the Delete button.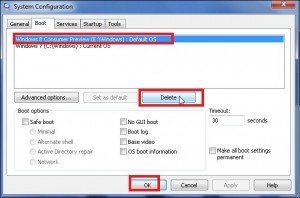 Now Click on the OK button at the bottom and close the current window.
Thus, windows 8 would shortly vanish from your computer.