How to get Emails Notification When Receiver Opens – Amid the arrival of both social sites Facebook and Twitter, to transfer an email has become an old-fashioned method. But the most of the companies and organizations still depend on email exchange because it is an extremely trustworthy way of communication.
But, while you forward an email, generally you don't recognize whether your email has been sent successfully or not and when it will be viewed by a receiver. So, the email tracking service tool has been developed like Right Inbox.com. This service informs immediately you when the new email message is dispatched and the receiver reads it.
How to get Emails Notification When Receiver Opens
Step-1
At first, you have to visit websites of RightInbox.com through below link  and install the extension in chrome browser.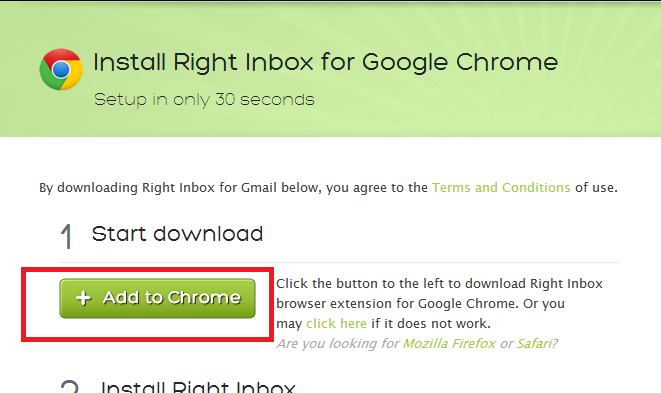 When you install the extension successfully, sign in your Gmail account.
Now you prompt a pop up box on your inbox page and click on Continue button.
Next click on Grant Access button to start Right Inbox extension service in your Gmail account.

As soon as you install the extension successfully, refresh Gmail account and prompt pop up box. Click on Close button.

Step-2 
You get three fresh buttons while you click on compose mail button.
1. Send Later
2. Track
3. Remind Me

How to Track Emails alert in Gmail account –
This button is used to track your sent email. To do it, at first, compose a new email and  click on the Track button prior to sending email. The button changes in green color.
Now click on Send Now button to send email.

Step-3
While the receipt reads your mail, you will find an email conscious notification from Right Inbox extension service about the tracking details.
But this extension service tracks only 10 emails in a single month. If you wish to track more email alert then you will have to buy the full edition of Right Inbox extension.
How to Schedule Emails in Gmail account Via Right Inbox extension?
The extension offers a different big characteristic termed Email Scheduling. Now you can set schedule of sending emails as yours desire to dispatch it afterward. To do it,
Click on Compose mail option to send a new email.
Next click on Send Later option.
Then you get menu panel including many schedule option ( in 1 hours, in 2 hours and more) and choose anyone,
You can  set a custom time  to send email on desired date and time by selecting option –  at a specific time