If you have installed so many apps on your Windows 8.1 PC that the memory of your PC  is quickly out of room then you should check which app is using more memory Space. It might especially be the case you are using a Windows 8.1 tab. There is an easy process to know that how much memory space a particular app is using. We are elaborating here  Windows 8.1 tips to see all this and install and uninstall apps to run your PC smoothly.
Note – We are showing the process of being done on a PC so we talk about mouse clicking if you are using a tab then Tap on the screen using fingertips.
Recommended: How to Fix high CPU Usage Problem on Windows 8 PC Step by Step
How to Know Memory Space used by Apps On Window 8.1
To begin, press Window key with C button (Win+C) to open the charms bar which stands just in right side of Windows screen.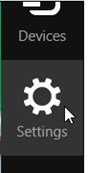 1. Click on Change PC Setting option on the lower right corner.
You get Search and Apps option. Under Search and Apps, you will get app sizes option in the left pane of windows screen.

This option displays a progress bar determining the app sizes. You will get also a message on PC / Tab screen that how much space is available in your PC / Tab.

You also look at the list of apps which is installed in your PC / TAB that how much memory space a particular app occupies.
This process helps you to better track your apps on Windows 8.1 PC and Tab as well and avoid running out of space unexpectedly. This process also indicates how many apps have been installed in Your PC / Tab using the last option where you get the list of the apps with apps storage size.