WritePlus is a new text editor Windows 10, 8 App. This is a new and innovative Windows App that allows you to create the word document just like Microsoft Word, Notepad, or any other text writing software. This app provides you word processing features that help you in creating new and different types of documents. The document created by you is either short notes or long documents. You can edit the document and represent it in a very beautiful way. You can also print the document by using its own interface. The other advantage of this app is very lightweight just only 703 kb. So we can say this document is very useful for us to create a word document in small storage.
Recommended: Bell Office to Manage Text Files, Time, BookMark, Photos on Windows 8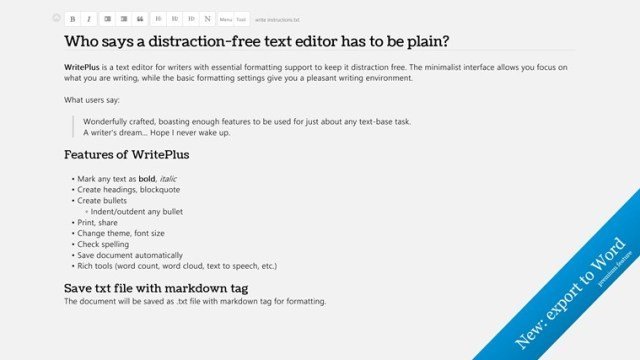 A screenshot is shown in its interface in the above figure. Here, You can see creative writing picked up from Wikipedia. There are many other features too here on this app you can explore yourself, once you start using this app.
How to use different Features of WritePlus text editor
After installing WritePlus Windows 10, 8 app, you will see a popup menu on the screen. This menu has a lot of features just like Ms word file menu, edit menu, etc. If you are using this app for the first time, you can skip quickly these 5 pages through instruction which might take too long time as well as very hectic.
All features are available on the WritePlus Windows 10, 8 App is as MS Word. If you have written any wrong word it shows that word with a red underlined which implies that word is incurred and if you click right button it displays you the nearest accurate word related that meaning. You can use more facilities by using light gray button such as B for bold, I for Italic. An interesting thing that is, you can hide buttons using control visible and you can show them as well by simply pressing the same button again. Let's talk about how you will use this app.
If you right-click anywhere on this app you will get two buttons and they are – one in the top and other in the bottom of the screen. The top-bottom of the screen store's recent activity or use can also use many MENUS such as file, open, new document, etc. you can refresh documents by using the tool menu. All features of tool menu are sadly locked in this free version.
When you are using control bar at the bottom that gives you facilities to quickly open an existing document, open a new document, save as well as print your document. overall you can say this document gives you feature to modify all the existing document.
How to use the available formatting options
Formatting means changes made in the existing document. This feature also modifies the document which is already in your storage. Such as Bold, italic, underline the text. You can use Headlines for Heading 1, Heading 2, etc. There are also features like changes in the indentation of text at the top editing bar.
What are the different supported formats 
There are different formats such as .txt and .rtf. It only supports opening and saving files are in .txt format. It is a drawback of this app. Some people also wonder why this gives options of bold italic underline etc. the text format save the complete feature of text such as notepad. It is very interesting to know that the .rtf formats totally free for this version and also have some great potential.
Conclusion 
WritePlus is a new Windows 8 app that acts as the replacement of notepad. It helps you in continuing your work without getting tired. So we can say it is a very nice feature which you can free download in your windows 8 device.