Facebook has launched online "Video Chat Service"  features for their users.  This feature is useful to make group video online chat and online video conferencing through your Facebook account.
It is absolutely free of cost.
How to start-up Facebook Video chat?
Firstly, you will have to arrange these hardware equipments for setting up Facebook video call .
 Web camera and head phone with mic
Web camera and mic. are available in Laptop. But for desktop PC, you will have to purchase high quality and  best resolution supported web camera and mic enabled headphone from market and install carefully .
Best Internet Browser
Facebook Video calling runs with  latest version of  following internet browsers –  Google Chrome, Mozilla Firefox, Internet explorer and Safari.
First method
 Copy link – http://facebook.com/videocalling   in new URL address bar and login your Facebook account
After click on Get Started option.
 Now download Facebook video chat plugin application from Facebook download link in few minutes.
After downloading, run it in your computer, select any online friend via friend list in right panel and start online video call.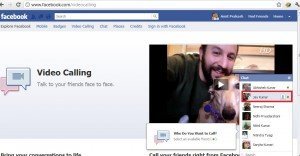 Method-2
Sign in Facebook account and choose any online friend from friends lists to whom you want to make video call.
Choose option – Start a Video call with any friend name (submit).
When you get the call then click on option Setup Video Calling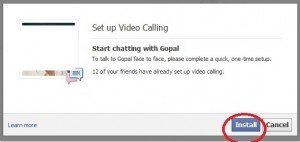 Now download Facebook video call plug-in application in few minutes in your computer and install it.

After installation of Facebook video chat application,  you have to select any online friend and click on Start a Video call with Submit.
Just Video call process will start. If connected friend accepts your request for Video call, transmitting of current video footage with a friend before your will start.