As our world gets more tech-savvy and computers continue to develop a deeper relation with us as far as our work is concerned, we appreciate the comfort and ease these machines have brought to the way we create, store, view and transfer our data. But at the same time, we must be alert to the hazards that have developed simultaneously to these advances. Cyber applications as Viruses Trojan Horse, Worms and Malware of myriad kinds are having a cyber presence all around, especially in this era of connectivity where it is almost impossible to come across a PC not connected to the Internet. Having said that, this gives rise to a specific kind of fear when you talk of transferable storage media in general or pen drives in specific.
Let's talk of simple a scenario which many of us have experienced. You plug your pen drive into a foreign machine, to transfer some data from our drive to the machine. All works well and operation is done without any hindrance. Now when you return home and plug in your device to your computer, you are surprised to see that a virus has infected your hard drive. Oblivious to you, a VIRUS made it's way to your Pendrive and is now snugly residing in your hard drive while your machine suffers. In such cases, anti-viruses provide protection only up to a certain degree. What could be smarter on your part? Making your pen drive write protected would be a clever solution. This article tells you exactly how you could do that. Follow the following instructions –
How to make Pendrive write protected Step by Step
1. Go to your web browser and visit the website  www.gaijin.at
2. You reach the home page of the website. Now, there is a horizontal list of tabs available on the top as
HOME (having a small home icon), SOFTWARE, PHP-SCRIPTS, ONLINE TOOLS.
Click on software.
3. Once you head to the software page, scroll down the page and go to the list under the heading SYSTEM. You will see the USB write protector icon which is A RED SPHERE WITH A WHITE CROSS. Click on USB write protector.
4. Now you reach the download page of the software. Click on DOWNLOAD.
5. The file which will be downloaded is a RAR file, so make sure you have WINRAR application. The file itself is of the size 192 KB so the download is almost immediate.
6. Once downloaded, run the file and you will see a small box come up with the heading USB Write Protector. Here, you will have two options
(i) Turn on write protection (ii) Turn off write protection. Click on Turn on option and then close the box.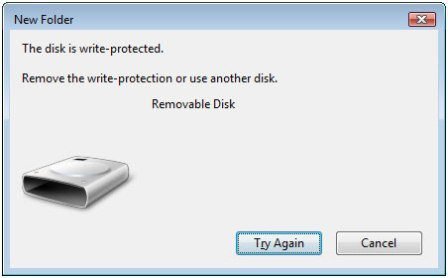 Now your pen drive is write protected. Each time you plug in your pen drive and try to write something on it (upload content on it) the write protector denies execution of such operation. Only when you will make changes to the original write protector file present on your computer and turn off protection, then only will something be written on it. Thus your pen drive is now automatically shut to any malicious software from outside.
Though the support details of the software state is its compatibility on windows vista and windows XP (sp 2) platforms, it works just as smoothly on windows 7 as well. You can trust me on that!!