How to share MS Word 2013 files to Facebook – One of these features is in MS Word and MS PowerPoint 2013 that you can save YouTube videos. Another excellent feature of office 2013 is that it allows you to share office 2013 files with Social Media Sites (Facebook and LinkedIn).
You can share the following files of MS Office 2013 in Social Networking Sites –
Documents of Ms word

Excel sheet of Ms excel

Presentation of PowerPoint.
In MS Word 2013, you will get different options in the Save menu. So a useful process is going to be explained as
How to share MS Word 2013 files to Facebook
First step
Preliminarily, Access Word 13 blank document followed by and heading to create a fresh document.
Now click on File menu at the top right corner to explore the backstage window.


Choose Share option from the left panel under MS Word 2013 backstage window.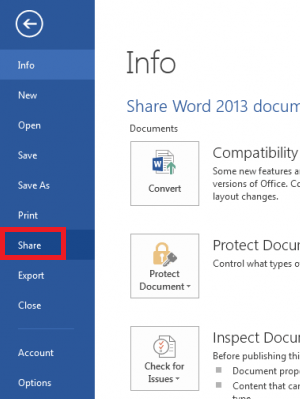 Second step
Now you will find several sharing options. For sharing in Social networking sites (Facebook, LinkedIn), you will have to store word files into Skydrive first.
To perform it, Click on Save To Cloud option and select an appropriate target folder to store the MS Word 2013 files on online SkyDrive account.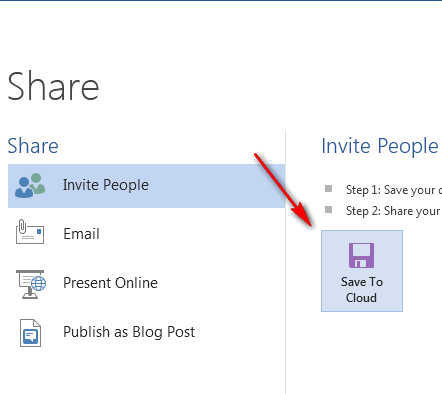 Now your MS Word 2013 files will be stored into Skydrive account permanently.
Third step
Once MS Word 2013 files are stored in SkyDrive, you get Share option in the left panel to begin share on the social networking site.
So click on Post to Social Networks choice from left menu lists.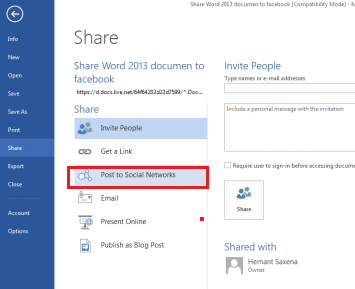 After selecting it, you will find sharing options in the right panel like Facebook and LinkedIn. Now check the box beside Facebook option.
You are also able to carry forward a choice from the drop-down box – Can edit or can view.
Type a message in blank box to view posts on Facebook and click on Post option.
Hence, You can share online either excel sheets or presentation files to social networking sites going through the above-illustrated software tips.