As you know in several countries, the Government has banned or blocked some websites (Facebook. YouTube) due to create rumors on current issues. These websites are blocked through their domain name and via proxies. Although the government blocks definite proxies due to the forever shifting and rising total of proxies. But, It is impossible to block them completely.
Then ProxMate extension is really helpful for those countrymen. The extension is developed for both best Internet browsers like Google Chrome and Mozilla Firefox. This extension permits you to visit Internet, and access blocked or banned websites.
How to access Internet with banned websites through ProxMate Extension?
Firstly, you have to install ProxMate Extension in your Google Chrome browser through the below link.
Click here to install ProxMate Extension (Proxmate is not available now, so here other working apps links)
Next click on Add to Chrome button.
When you successfully install the extension, launch it and choose options by right-click.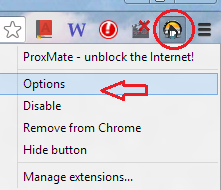 Here, you have to enable or disable different websites. With default it applies its individual set of proxies. It permits you to insert personal set of proxies as well. One more wonderful characteristic is unblocking YouTube videos automatically.
Certainly, you can add your personal proxy into both browsers because ProxMate gives easy option to find your ideal and accepted websites that are banned in your country. But it does not carry on path of your browsing history also.
Click here to install  ProxMate add-on to Firefox browser