The Windows 10 interface may tend to appear a little overwhelming with all of its Settings options to some of its users. Owing to which, Microsoft created a new application, Cortana Show Me. It is available for the PCs running Insider Preview Build 17128 providing with necessary guides on how to go about exploring the system's settings. So, here in this article, we will take you through the Settings Guide Cortana Show Me on Windows 10. It involves a series of instructions incorporated within the existing Cortana utility.
There are about 15 guides which tend to cover some of the basic essentials. The following lists the guidelines that are available for now.
1#. Uninstall an app,
2#. Run a security scan,
3#. Change your default programs,
4#. Change your display brightness,
5#. Check your version of Windows,
6#. Use Airplane Mode,
7#. Turn off Windows Defender Security Center,
8#. Update Windows,
9#. Check if an app is installed,
10#. Change your desktop background,
11#. Add nearby printers or scanners,
12#. Change your screen resolution,
13#. Change Wi-Fi settings,
14#. Change your power settings,
15#. Discover Bluetooth devices.
How to Use Settings Guide Cortana Show Me on Windows 10
You can install the app Cortana Show Me from the Web Store. It offers step-by-step instructions on navigating through Window Settings from simple basics like changing basic things to other specific functions like adding Bluetooth devices, etc. However, the app, for now, is available in English and German language.
Step-1: To install the app, first, login to your Microsoft Account. Next, visit the Microsoft Store by clicking its icon on the taskbar.

Step-2: Type Cortana Show Me in the search bar of Store and from the results, hit Install.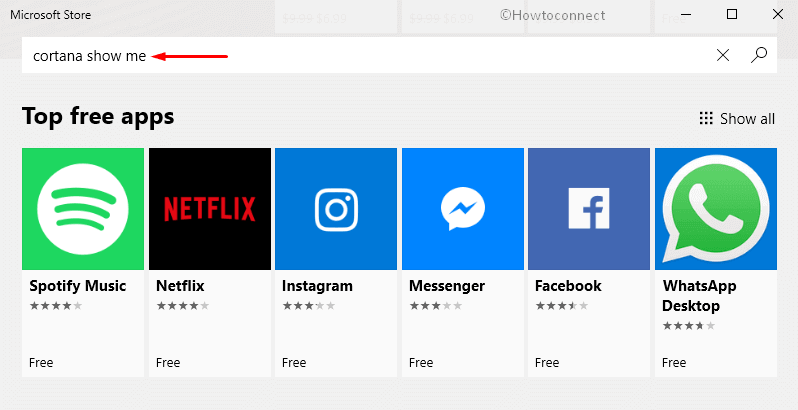 Note – If you cannot find it there, grab the application from the following link.
https://www.microsoft.com/en-us/store/r/cortana-follow-me/9pl1gmkcxm8c?wa=wsignin1.0
Step-3: You can access the basic guides by simply launching the app from Start Menu.
Step-4: Once Cortana Show Me opens up, you can view various guides on its interface as shown in the below picture. Now, click the guide you prefer to learn.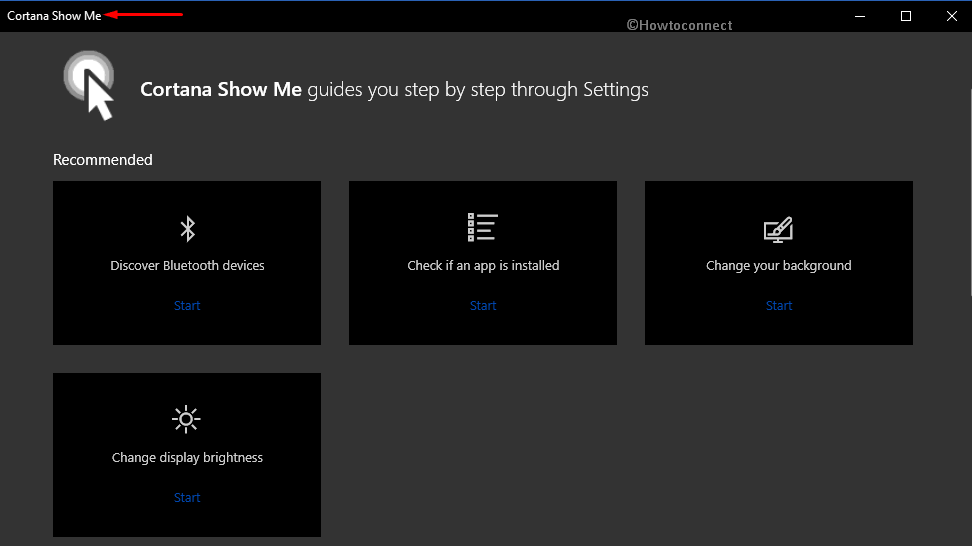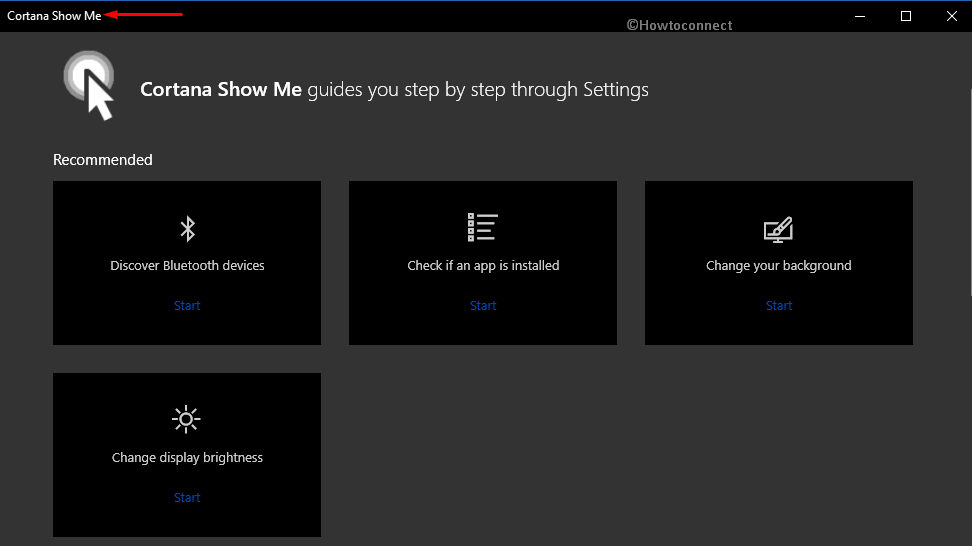 The OS also introduces a new option to Preview Web Results in Cortana on Windows 10.
The app still being in its early stage, promises to bring out additional features and other interesting guides. Also, it will be able to support voice commands in the coming time. With the app still on the rollout, if you are unable to download it. You may have to wait for a few days and check later if the app is available in your region.