According to a fresh report by Facebook, more than 85 million fake profiles are running now. Some of the fake profiles have been created for a disturbing purpose. People also create false profiles for fun and advertisement. Often fake profiles waste your valuable time. In this condition, you need to identify fake profiles running by a single person on Facebook. Now new software "FB Checker" confirms whom you are connecting with on Facebook is real or fake.
Related Post:
How to Schedule Birthday Wishes for Facebook Friends
Best Tips to Delete All Facebook Messages fast by single Click
Tips for How to use FB Checker?
Download and install FB Checker software on the computer. Download FB Checker
Launch the FB Checker icon in the system tray and sign-in with your Facebook account.
Now browse the profiles, which you want to test, with your Facebook account in the web browser. All photos and Facebook profile's albums, that you select, are loaded automatically into FB Checker's tab.
If you want to know information about real or fake from collected all the profile's photos that you have seen, click on Analyze profile button.
Next, check the tab of preferred photos and again click on Analyze profile button.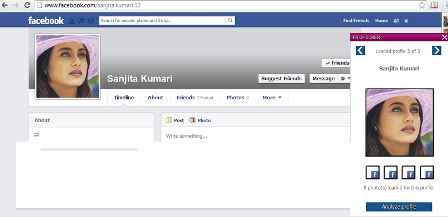 The process could take a few seconds or minutes to show all details of selected profiles' photo.
Your results will show in a new tab inside your browser and will have a detailed analysis. Here, you will notice, each photo will come with a few links on the right side. It will also show you, where on the web these photos were stolen from.
You will also find a sharing option and click on share this page option at the bottom. It will generate a link that you can copy and paste on your profile's wall or in a comment box. This action will warn to your innocent friends from fake profiles.
Conclusion
The FB Checker software is available in beta. So you can analyze only a restricted number of profiles in a single day. FB Checker works with Windows XP, Vista, 7, and 8.