I have already covered the features of a Fotor app. It is possibly the most feature-rich photo editor app for Windows 8. The Fotor app offers a simple design and handy features. Now we have admired the new windows based powerful photo manager and photo editor software called kestrel GX.
It seems like an alternate option to Adobe Photoshop. All features of kestrel GX software are compatible for both part-time as well as professional photographers in order to edit the photos quickly and simply. Related Post: Top 4 Android Video Editing Apps You Must have.
How to use Kestrel GX software?
Remember that during installation of the software, you will notice the opportunity to install TuneUp utility software. If you do not like to install this software, simply uncheck the license agreement check box underneath and click Next option.
The main interface of Kestrel GX software presents a resourceful and stylish workspace. On the left side, you may import or select your images from various locations like folder or computer drive. At the bottom, you will locate thumbnails of the pictures that are gathered in your chosen folder.
The software provides a fast search engine that lets you search for a particular image yourself by entering the keywords in the search bar.
The kestrel GX software also presents some control tools on the main image preview area. These tools are used to perform several photo editing actions on the selected photo for example edit, rename, rotate, slide show, edit and more.
This is a powerful photo editor too, which asks you to choose a range of editing tools like image rotation, cropping, resizing and red-eye removal. It also facilitates you to start these photo editing actions for example control sharpness, noise, colors, saturation, brightness and contrast, add a watermark to the selected photos.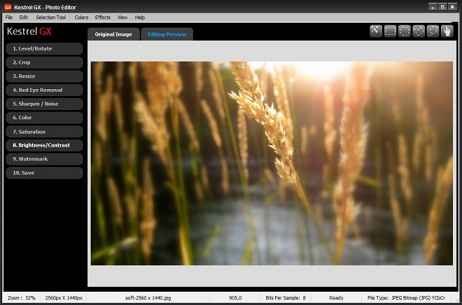 Besides, you can check out preview quickly between edited and the original image through useful buttons that are found at the top side.
The Kestrel GX software supports a wide range of photo formats for instance PNG, JPEG, PS, PDF, TIF, GIF, BMP, PSD, RAW, and many others. Besides, this software offers a powerful feature namely image converter. It assists you to convert images between the supported formats.
Conclusion
The complete features are used in the paid version of Kestrel GX photo editing software. But its trial version supports limited features. the software is compatible to run with Windows 8, and Windows 7  (both 32-bit and 64-bit).