The Android phone is the first preference of a large number of people. Everyone wants a phone which can do a lot of thing and makes the life easy and entertaining. Android is an operating system for the mobile and tablet developed by the Google. This android operating system has many applications and features. All the applications and features of the android phone are very interesting. You can easily download many apps from the Google play in this.
Every person wants to keep his mobile private so that no one can enter into his phone. Therefore, he uses the security as pass-code or pattern. But, sometimes he forgets the password or pattern. After using several attempts the phone is locked, and the screen shows 'Emergency Call' and 'Forgot Pattern' button.
Related Post:
How to Reset factory setting to Samsung Galaxy smartphone, tablet
How To Reset Factory settings to Google Nexus Tablet – Hard, Soft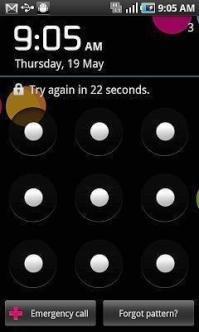 Forgetting the password of android phone or any phone is a ridiculous moment. You have the phone, but you are not able to do anything with your phone. Some tips are being given here which will help you in removing the problem.
First thing is that when you create any password or pattern then write it and hide it secretly.  This is a perfect idea.
First Method
Android gives chance to recreate the pass code or pattern. If you use the android phone then you must have a google account. Press the forgot pattern button which is being shown on your screen. This will take you to google account username and password in Gmail. Here, enter your Gmail username and password. After this process system will allow you to recreate a pattern and now you are done.
Second Method
You should call yourself from other phone and receive the call, hang it up and press the home button and go to setting and try to disable the pattern lock without ending the call.
Third Method
You can use reset factory setting to recover your phone, but it will cost you by losing your all data, applications, contact numbers, messages as well as application settings. Although It will not affect your memory card. Performing the factory setting is different in different android devices. It means the process of factory setting in Samsung android device will be different from others. You will have to act fast in the whole process, and you will have to use both hands.
Samsung Galaxy (note old Galaxy i7500, Galaxy S further down):
1. Switched off the Galaxy
2. Press and hold volume down, call and power button
3. Follow the given instruction on the screen
Google Nexus
1. Turn off the device.
2.  Press and hold both the Home and Back buttons simultaneously.
3. Press the Power button and release the Home and Back button.
4. Do as the instruction is given.
Sony Ericsson
Go to the Sony Ericsson website www.sonyericsson.com. Open the support and download software page. You have to download the Update Service Application. Run it and select your phone model and follow the instruction.
Watch YouTube Video for more support: