If you are here, then you must be wondering about igfxEm.exe in Windows 10. It is a genuine file and software element of Intel Common User Interface (CUI). When you install Microsoft Windows OS on your PC, igfxEm.exe is installed too along with the driver of Intel graphics card. Nvidia and AMD graphic card drivers widely use this specific .exe file. This file refers to GEMM (graphical executable main module) interface.
So, if you see igfxEm.exe in Windows 10, you may be curious what is this file doing on your computer? Here, in this article, we will tell you each and every detail related to this executable file.
igfxEm.exe in Windows 10 – What is it and How does Work
IgfxEm.exe in Windows 10 stands for Intel Graphics Executable Main Module where .exe indicates it is an executable file. This is a middleware file, which exists on Intel graphics card and directly works on GUI interface. It is not a core file of Windows OS; however, a genuine file which is signed by Microsoft. The rating says that it is only 5% dangerous and consumes less memory of your CPU about 489.75 kb. (Size may vary according to the process running in the background).
Some detail about igfxEM.exe is:-
| | |
| --- | --- |
| Product name | Intel(R) Common User Interface |
| Company name | Intel Corporation |
| File description | igfxEM Module |
| Internal name | IGFXEM |
| Original filename | IGFXEM.EXE |
| Product version | 6.15.10.3621 |
| File version | 6.15.10.3621 |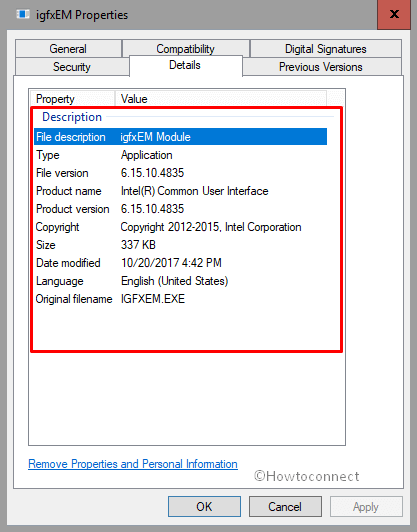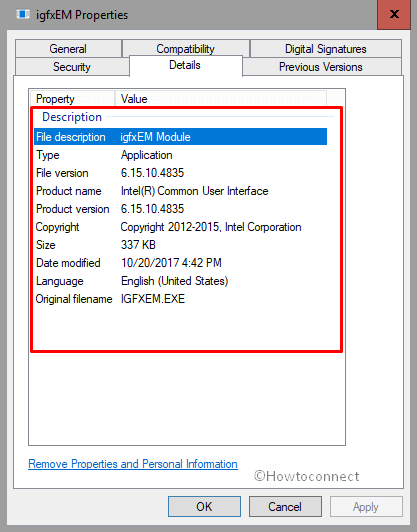 Is this a Virus?
You may misapprehend this file as a virus owing to its extension. However, there is a quite an easy way to detect whether this is a malware or just a regular file of Windows 10.
Just right-click on the suspicious file and then click on Open File Location.
If its path is C:\Windows\System32\igfxEM.exe then there is nothing to worry about.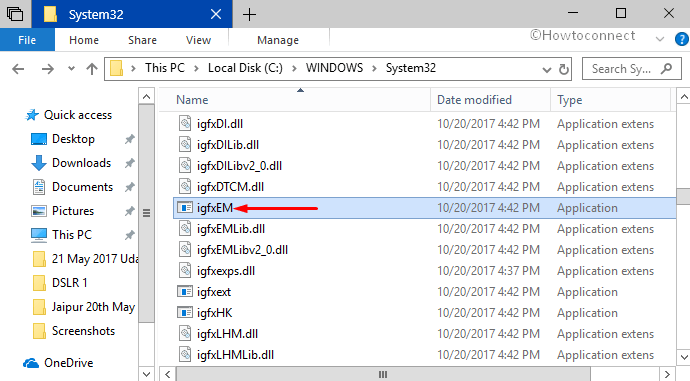 However if the path is other than the above-mentioned one, you need to do a full scan of your system.
You can also see igfxEm.exe module by pressing "Ctrl-Alt-Del" and clicking on "Task Manager". Here, click on Details Tab. Here also, when you right-click the igfxEm.exe file and select "Open File Location", you can see its path.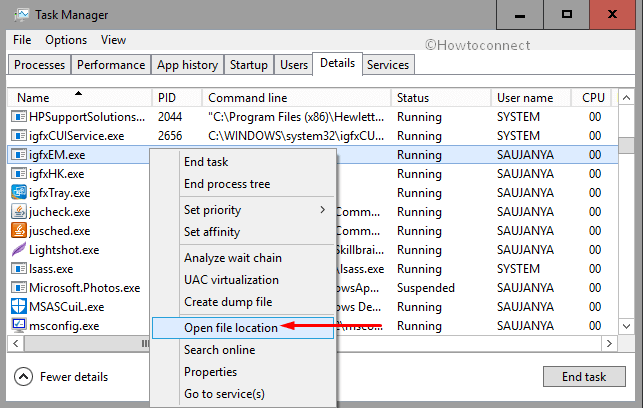 Note: Be sure to always double check the spelling of these executable files. This is necessary because often spyware disguises themselves with a similar spelling of system processes or other computer tasks.
How to Disable this File
You can easily disable igfxEm.exe in Windows 10. All you have to do is to –
Step-1: Open Start Menu by clicking the Windows logo icon. Then type cp and hit Enter when Control Panel appears as the final result.
Step-2: Locate and click the applet namely Programs and Features.
Step-3: Here, choose "Intel® Common User Interface" and at last click Uninstall.
In addition, you can also disable this file using RUN command. Make a combined hit on Win+R hotkeys to open Run dialog box.
Type "msconfig" in the text field and click OK to proceed.
System Configuration will show up on the PC screen, switch to the Services tab. Here, locate and untick the igfxEm.exe file and click Apply button.
So, that's all about igfxEm.exe in Windows 10.
Repair any Windows problems such as Blue/Black Screen, DLL, Exe, application, Regisrty error and quickly recover system from issues using
Reimage
.