Nowadays IM service supported app like Whatsapp, and 2go have become popular broadly among smartphone and iPad users. I have chosen a new Instant Messaging app named imo that provides a simple interface, fast media sharing facility and broad support. imo is a free of cost IM app for Android, iPhone, iPad, Nokia and the web.
It is important to know that recent version of imo app has facilitated users to make VoIP calls with their friends on iPhone or Android. Thus, imo app is providing opportunities to make free unlimited calls between the imo-to-imo accounts in iPad device. Now updated version of imo app for iPad device has been presented with VoIP facility as well as neat interface.
How to make VoIP calls with imo IM app on iPad?
At first, with the purpose of start VoIP calls on iPad user need sign up for creating a new imo account by their phone number and email.
After sign – in imo app on iPad, it scans entire address book to Discover contacts that using imo was using previously.
In order to start other services with the imo account, tap on the main menu and click the 'Add Account' option. Then contacts of all connected accounts will appear in the left sidebar.
Sorry to say that VoIP service is restricted to imo contacts only. Imo app offers outstanding voice quality in VoIP calls without any hindrance.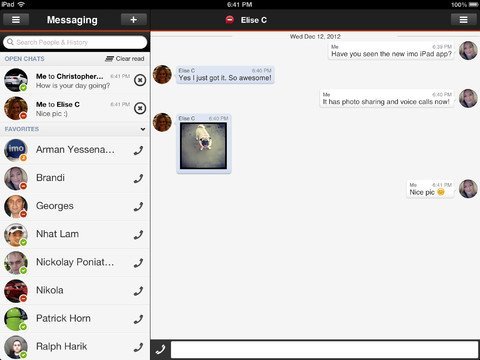 After the VoIP call finishes, it rolls up complete chat records quickly. During the chatting, it is easy to transfer just taken camera photos or voice call recording to friends. Photos can also be shared by clicking the camera icon beside the chat text box.
Imo is an excellent at maintaining chat history, and, the search panel in the left side gives result as well as contacts and past sessions chat data.
Download imo App For iPad From Apple Store