Internet users in every part of the world are very susceptible to theft. The criminals always try to develop new malware programs which they try to find vulnerabilities and introduce these into the systems. They are always in the search of holes where they can introduce malware software to steal important information or corrupt the system.
The Microsoft Security Intelligence report states that the computer maniacs have been spying on the browsers. The JavaScript and the HTML have been the favorites of these computer crooks to spread infections. Some of the trustworthy sites also place malware on their website to infect the computers when the Home pages of such websites are opened. Microsoft's free Windows Defender is one of the anti-malware scanners which can protect from such threats.
There are various ways to protect the computer system. One of them is by disabling third party cookies which protect privacy, deleting history. Though these remain are some, but there is no permanent solution to this problem.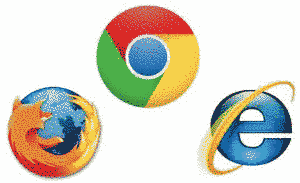 If the browsers are always kept up to date then Java Script probably can be run safely. For disabling the JavaScript in Firefox, click Tools > Options > Content and uncheck Enable JavaScript. (You may need to press the Alt key to show Firefox's menu bar on which the Tools menu appears, or right-click the toolbar and check Menu Bar.) Then on restarting the browser, a text box appears which shows that all the texts have been disabled.
For disabling JavaScript in Chrome, click on the Settings icon in the top-right corner, choose Settings, scroll to and select "Show advanced settings," click the "Content settings" button under Privacy, and choose "Do not allow any site to run JavaScript."
Another way is by disabling all the cookies and deleting all the history on exit. The default option allows all third-party cookies on Firefox, Chrome, and Internet Explorer, and also all the history is also saved. But these settings can be changed.
For changing the settings in Firefox, click on Tools > Options > Privacy and choose "Use custom settings for history" in the drop-down menu under History. In the options that appear, uncheck "Accept third-party cookies" and check "Clear history when Firefox closes."
For blocking third-party cookies and deleting history on exit in Chrome, click the options icon in the top-right corner of the browser window, choose Settings, select "Show advanced settings" at the bottom of the screen, click "Content settings," choose "Keep local data until I quit my browser," and check "Block third-party cookies and site data."
For doing so in Chrome, click the options icon and choose Tools > Clear browsing data (or press Ctrl-Shift-Del). Make your selections and click the "Clear browsing data button."
So these are some of the tips by which you can protect and secure your computer from software and from stealing information.